I think it's safe to say that my fondness for pumpkin beer has been well documented over the years here on Freddy In Space. If it hasn't, allow me to provide a brief summary; I fucking love the shit and I can't get enough of it.

Naturally, I was quite surprised and incredibly delighted to find this Blue Moon Autumn sampler pack at K-Mart the other day, which contains three bottles of Blue Moon's ever so delicious Harvest Pumpkin Ale. I didn't think this kinda stuff would start popping up until at least a couple weeks from now, so I excitedly snatched it off the shelf immediately upon laying eyes on it. And believe it or not, I almost left the store without it. The idiot employees were having a hell of a time ringing it up, and couldn't seem to figure out how much it was supposed to cost, so I actually walked out of the store in frustration after about 10 minutes of waiting around. But the lure of pumpkin beer was far too strong, especially since this would be my first taste of it this year, so I soon thereafter found myself going back into the store, and walking out a second time, only this time with the 12 pack under my arm. As if I was ever really gonna leave without it!!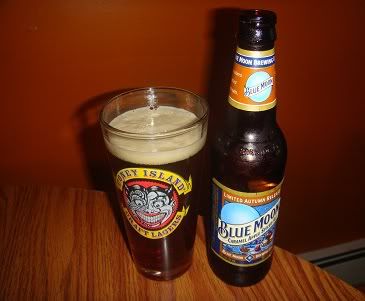 Though the three bottles of pumpkin beer are what drew me to this pack, the real standout here is perhaps the Limited Edition Caramel Apple Spiced Ale, which is new as of this year. I guess Blue Moon asked their fans what flavor they would most like to be a part of this year's Autumn pack and Caramel Apple was the winner. To make it, they blended cinnamon, nutmeg and caramel malts with fresh apple juice, and the result is absolutely magnificent. It sort of tastes like a pumpkin beer, with all those spices hitting the palate right off the bat, but finishes with a nice apple juice flavoring. So it's almost like their pumpkin beer mashed up with apple juice, and it's damn good. In fact, even though Jen loves Blue Moon Pumpkin Ale as much as I do, she traded me the one she had opened up last night so she could instead sip on the Caramel Apple I chose. That's saying something!

I can't even tell you how happy it makes me to be drinking these treats again and like I said, it's even more exciting because I totally didn't expect them to be back in my life until at least a few weeks from now.
Now if you'll excuse me, I've got some pumpkins and caramel apples to drink!

Oh and if you've found any pumpkin beers in your travels thus far this year, leave a comment and let me know what and where!!