Anyone who collects toys is undoubtedly familiar with a company called Mego, one of the leaders of the toy game back in the 1970's. Known mostly for their 8" figures, Mego rose to popularity after they began acquiring television, comic book and film licensing rights, churning out toys based on everything from DC & Marvel superheros to films and shows like
Planet Of The Apes
and
Star Trek
.
In 1974, they released a line called the Mad Monster Series, figures based on the ever popular Universal monster movies. Interestingly enough, unlike many of their toys, these particular toys were not licensed. Nevertheless, the line was comprised of Dracula, Frankenstein, Wolf Man and The Mummy, and became incredibly popular amongst monster loving kids. Along with the figures, a playset called the
Mad Monster Castle
was also put out at the time, a vinyl environment for the monsters to play and display in.
Now the thing about Mego is that they filed for bankruptcy back in 1982, only a decade after they rose to power in the toy world (prior to the 70's, the company was mostly known for its cheap dime store toys). As a result of this fairly rapid fall from grace, Mego toys have become incredibly rare and valuable over the years, with most of their releases fetching very high prices in the collectibles market. Because many toy collectors simply cannot afford to own original Mego toys, many companies over the years have put out replicas of those original toys, giving everyone access (sort of) to those legendary and iconic collector's gems. Several companies have even put out figures in the Mego style that are based on properties that Mego never actually licensed, like Night Of The Living Dead and The Munsters.

Realizing that the original Mego Mad Monsters and especially the Castle playset are way out of the price range of most of us, Figures Toy Company has taken matters into their own hands, by not only releasing replicas of the original four Mego Monsters, but also an EXACT replica of the Mad Monster Castle Playset, which has just gone up for sale. The Limited Edition recreation was created directly from the original playset, right down to the direction sheet. How awesome is that?!

Here are a couple more pictures of the set (seen above), which is selling for a small fraction of what the original Mad Monster playsets go for!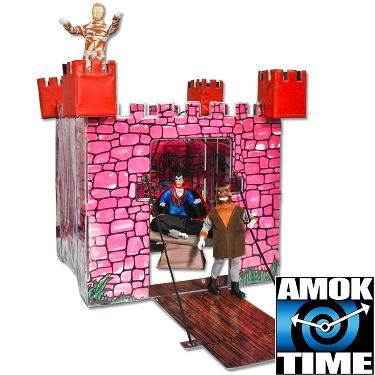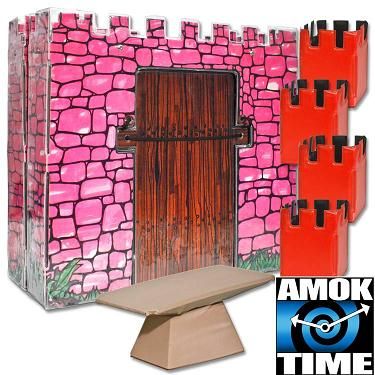 You can
pick up your own Mad Monster Castle Playset
over at Amok Time for a mere $69.99. And remember, it's only available for a limited time. If you want to add the figures to the set, you can
grab all four replicas
for $59.99. True, you can get them other places, like directly from
Figures Toy Company
, but when it comes to buying toys, both new and old, Amok Time is my personal one stop shop!
You need this. I need this. We all need this.