I've already made a couple posts about new merch and costumes for the
2012 Halloween season
, and that's something I'm going to continue doing throughout the next couple months, either with new stuff I see online or find in the Halloween shops that sprout up in my area in September and October. One of my favorite things about my entire year is seeing the cool new shit companies put out for Halloween around this time of the year, and I plan to embrace that to the fullest here on Freddy In Space. Not that I don't always, but yea.
One of the most iconic images from AMC's Walking Dead thus far is that of the young zombie girl in the bunny slippers who is carrying her teddy bear, from Season 1 of the show. Yep, that's the one that Rick Grimes shoots point blank in the head. Both adult and children's costumes have been created from this character, and the little girl who brought her to life (or, rather, death), Addy Miller, has been all over the convention scene in the past couple years because of her brief role on the show. Talk about making a lasting impression!
In the last couple years The Walking Dead has spawned a slew of officially licensed Halloween merch, and the latest one is perhaps the coolest of all. Zombie Teddy Bear Girl has been given the full life size animatronic treatment, and she's now available for pre-order!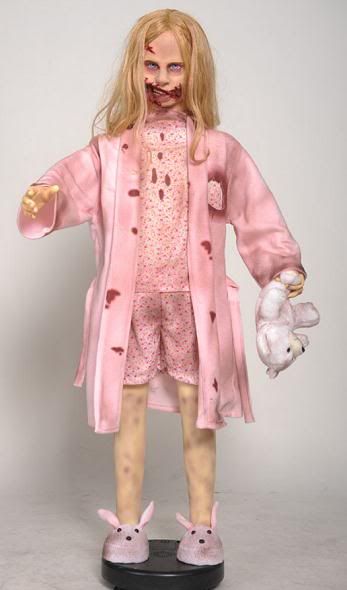 Spirit Halloween's website doesn't mention what exactly this thing does, but I'd imagine it moves around and probably is equipped with some kind of sound bite (no pun intended), perhaps a zombie growl of some sort. Or the sound of the gunshot blast that ended bunny slipper zombie's second life. But that remains to be seen.
All I know is that this thing looks fucking awesome. Though cool, a lot of these life size animatronic decorations tend to not exactly look all that screen accurate, but this one looks like it was ripped straight out of the show. Best of all, it's only $160, and will begin shipping on or before September 15th.