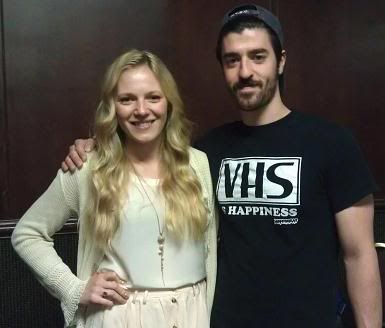 That picture right there is the thing about Monster Mania 22 that makes me the happiest. After patiently waiting to meet Emma Bell for the past several Monster Manias, where she was initially booked and then closer to the show cancelled, the day finally came on Saturday where our fates became entwined. She didn't exactly fall in love with me the moment she looked into my eyes like I had planned, but I'm a married man anyway, so I guess I can live with that. But she does look pretty happy standing next to me there, doesn't she?
The moment I fell in love with the lovely Bell was when I saw her in Frozen a couple years back, more specifically when she was up there in the abandoned ski lift talking about how her dog was probably waiting by the door for her to get home, an arrival that she was more and more realizing was never going to come. Reduces me to a big ole pile of hairy mush every damn time.
Since Frozen, Emma has gone on to become a new age Scream Queen of sorts, appearing in Season 1 of The Walking Dead (where she again made me cry like a baby) as well as in Final Destination 5, my personal favorite installment in that entire franchise. I don't know why this is turning into an Emma Bell mini bio but yea, I love Emma Bell.
My friend Adam Barnick made it out to Monster Mania on Saturday and he joined Jen and I in meeting Emma. Adam is actually the dude who directed all the special feature behind the scenes documentaries on the Frozen home video release, so it was pretty cool to see them re-unite and chat it up a bit about the shoot. I presented Emma with an old pair of snowboarding goggles (get it?!) that I had been waiting to get signed by her for over a year, and talked with her mostly about how bummed I was that she had dropped out of the last couple shows. I told her that I was ready to jump off the Emma Bell bandwagon if she had pulled out again this time, which she chuckled at. I think I was only half serious.
Behold ... my pair of snowboarding goggles, FINALLY signed by Emma Bell!!
Was the wait worth it? Why yes, it in fact was. Emma was a total sweetheart, and these signed goggles are one of my new favorite possessions!
The only other person I really wanted to meet at the con was Jeffrey DeMunn, who was there as part of a little Walking Dead reunion. DeMunn of course played the loveable Dale on the show, and has appeared in countless other films like The Mist, The Shawshank Redemption & a rarely talked about little gem that I dig called Citizen X. But it wasn't any of those movies or even The Walking Dead that made me most excited to meet DeMunn. It was all about 1980's Christmas Evil for me!
I was happy to see that DeMunn's line at the show was consistently one of the longest lines all weekend, which probably had to do with him both not being a regular convention attendee and also with how beloved his character on The Walking Dead is. I waited till pretty late on Saturday to meet him and I got pretty damn lucky because the line was being cut off just a couple people after me, so I really almost missed out on the opportunity. That's me, always putting shit off to the last minute. It was on his line that I overhead my favorite quote from the weekend. A dad was talking to his friend about getting DeMunn's autograph for his young son, and he said; "My son loves Dale. He's still mad at the little boy for getting him killed". I'm with ya, little guy!
As I expected, DeMunn was quite taken aback when I placed the Christmas Evil VHS on his table, taking a few moments of silence before talking with me about how nobody else had even mentioned the film to him while he was there. He reminisced a bit about it and I talked with him about how much I love the movie, and how I feel it's underrated and misrepresented as merely another killer Santa flick. He seemed to agree, though he didn't really say much about how feels nowadays about the film.
I didn't end up getting a picture with DeMunn because a picture and an autograph was $40, whereas the autograph itself was $30. Not a big fan of celebs charging additional money for pictures with autographs, but I'm willing to forgive DeMunn for that. I mean come on, it's fucking Dale. And goddamn Philip Stadling!!
And that about wraps up the Monster Mania 22 coverage. Hope you've enjoyed reading it as much as I enjoyed living it!