One of the big topics of discussion at Monster Mania was the post I made last Wednesday about a piece of hate mail I received last week. You can go back and
read the full post here
, but in case you missed it and don't want to, the gist of the hate mail was that the girlfriend of a cosplayer who dressed as
Silent Hill
's Pyramid Head at Monster Mania in March was pissed off at the above comments I made about her boyfriend, which were made within a post back in March that touted his costume as one of the best I saw at that show. Try and make sense of that. I challenge you.
I was very surprised by the amount of people who came up to me at Monster Mania to talk about the post, and wondered if I had spotted the happy couple at the show. It literally seemed like everybody was buzzing about it, which I got a serious kick out of. You just can't ever predict what posts are gonna garner the most attention!
I was pretty sure that at some point I would be running into Pyramid Head and Mrs. Pyramid Head at the show, being that they seem to be Monster Mania regulars. But much of the day went by Saturday without a single sighting of them. And then, after Jen and I awoke from a brief nap, I checked my phone and saw this text message from my friend Chris Tanski ...
"Freddy In Space fans at Fright Rags table who want to meet you"
Followed by this text from Kristy Jett ...
"You need to see the AWESOME picture Tanski just posted on Facebook"
It was in this moment that I was incredibly thankful that we brought Jen's laptop along with us. I cleared the nap crust from my eyes, popped open a beer, and immediately headed to Tanski's Facebook. And there it was; a picture that spoke a thousand unspoken words.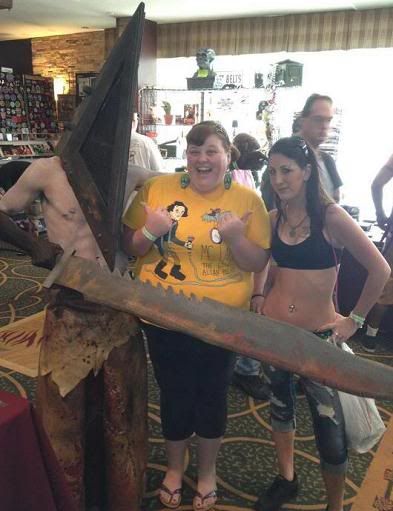 I of course rushed downstairs to get the full story, where Kristy revealed that she took the picture with the two of them without ever explaining who she was and why she wanted to take it, thereby paving the way for me to meet them myself and confront the angry girlfriend about her angry e-mail. I figured she probably had no idea what I looked like, and probably never saw the post I made about her e-mail, so I was pretty confident that my undercover mission would be a success.
Cut to about an hour later. I spotted the two of them in the lobby, and approached Pyramid Head about taking a picture with him. Jen asked the girlfriend if she wanted to get in the picture too and before I knew it, just a few days after this whole sage began, the payoff had already arrived ...
Neither of them had any idea who I was and since I had a few drinks in me, I decided to break my undercover act. I told the girlfriend I was the dude who writes Freddy In Space, the one she sent her angry e-mail to, and she immediately became a bit timid and started going into a very toned down version of her e-mail, explaining again to me that it was hot out and her boyfriend's hair was messy, which is why he looked not so great with his Pyramid Head helmet off. Of course, as I explained, my comments had absolutely nothing to do with his looks, but no matter how much I explained my case, she simply wouldn't back off on the way she felt. She never raised her voice or expressed any real anger, but nevertheless she continued talking about how handsome her boyfriend is, and how I was wrong to post otherwise. I just couldn't get through to her.
And then came the moment I had been waiting for. I couldn't help but wonder if Pyramid Head had put his girlfriend up to this or if he was totally embarrassed by her actions. Or hell, if he even knew about the e-mail she sent. Through his Pyramid Head helmet, the dude whispered the answer to those questions ...

"I wasn't offended at all", said Pyramid Head. "It's all her."

Since his girlfriend was being fairly calm about the whole thing, a far cry from her internet persona, I decided to squash the beef right then and there. No use in going on, I thought. So I leaned in for a hug, a hug that was reciprocated by the woman who days prior wanted to rip my throat out and piss down my neck. Suddenly, in that moment, all felt right with the world. The higher road had been taken and all was forgiven.

The moral of the story? People are a lot meaner online than they are in person.

You're cool Pyramid Head, your costume rocks and you're super handsome. And you seem alright too, Pyramid Head's girlfriend. But Pyramid Head, dear sir, you need to keep your chick in line. And I say that with utmost respect, because I want people to look at you at these conventions and see your awesome costume, not the silly hatred your girlfriend is spewing about on the internet. If you're not offended by my comments, then you need to express that to her. Communication is key, you two crazy kids. I wish you all the best.