Teaser shot ... scroll down for the full reveal!
A while back, I laid eyes on a Hatchet 2 inspired Victor Crowley bust/mask that a mask maker by the name of Jeremy Bohr whipped up. It was the most beautiful Crowley mask I had ever seen, but I simply could not afford it at the time. So, being ever so responsible with my money, I vowed that whenever I had enough in my checking account to cover it, I'd pull the trigger. I fulfilled that promise to myself when my tax returns came back in April, leaving a decent hunk of change burning a hole in my account. Or at least, I tried to.
I dropped Bohr a message as soon as the check cleared, asking if he'd make me one of the masks. I offered him $300 for his troubles, a price that I believe I got from somewhere on his Facebook page. It seemed fair. I waited and waited and a reply never came.
Cut to three months later, just a few weeks back. Bohr finally got back to me, apologized for the delay, and said he'd make one of his Crowley masks for me for a mere $200. Needless to say, given the fact that he shaved $100 off the price tag even though he knew he could've gotten $300 from me for it, the few months wait for a reply was totally forgiven. And the $200 was immediately Paypal'd over to his account.
Yesterday, a big ole box arrived on my doorstep. I opened it up and what I found inside was a head; not the head of Gwyneth Paltrow, but the head of Victor Crowley himself. And what a glorious sight it was. Pretty glorious smell too. Goddamn, I love the smell of latex in the morning. Even though it wasn't morning. But still.
I now share that sight with you (sorry, Freddy In Space isn't equipped with Smell-O-Vision...yet), with this little image gallery of my newest prized possession, and probably my last big purchase for a while. Enjoy. And be jealous. Very jealous. Unless you hate the Hatchet films. But I'm sure you can still appreciate this bad boy's beauty!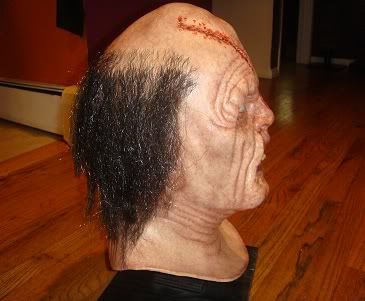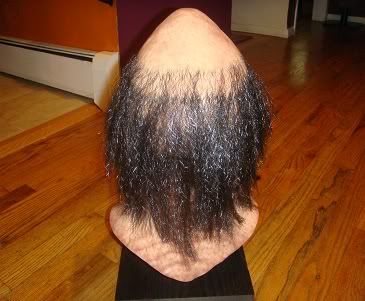 I don't think pictures, especially ones taken by me, can ever do a piece like this justice, but the detail and craftsmanship on this thing are absolutely stunning. I think the awesome thing about busts like these, and why people pay so much for them, is because they're kind of the ultimate collectible for movie fans. Owning a really well made one, like this one, is literally like having that movie icon hanging out in your house, which is just too cool. As you might imagine, I have plenty of Hatchet swag, so I'm probably gonna pick up a replica hatchet at some point and make myself a nice little Crowley shrine in my bedroom. Obviously, this baby is gonna be the centerpiece!
You can see all of Bohr's work, including equally impressive
Hatchet 1
Crowley,
Monster Squad
,
Chop Top
and
Castle Freak
busts, by heading over to his website,
Featured Creatures Design Shop
. You can also see even more on
his Facebook page
. If you see anything you like, which I'm pretty sure you will, drop Jeremy an e-mail (FEATUREDCREATURES@GMAIL.COM) and I'm sure he'd be happy to work out a deal with ya. The cost and wait will be worth it, this I can most definitely assure you!
Next April, when my tax returns once again come, you can bet your ass I'll be hitting up Jeremy myself!!