Remember those
cereal monsters art prints
I ran a giveaway for back in July, which featured monstrous depictions of beloved cereal mascots like Toucan Sam & Captain Crunch? Well ever since I discovered those, I've been following their artist, Lee Howard, on Facebook, where he often posts pictures of his latest art pieces. He even does something pretty cool called '15 Minute Sketches', an always updating album of sketches that he whips up in 15 minutes or less, and then sells on the cheap.
For Lee's latest 15 Minute Sketch, he whipped up a pretty badass Freddy Krueger piece, redesigning the character in his own unique vision. Check it out, along with what Lee had to say about it!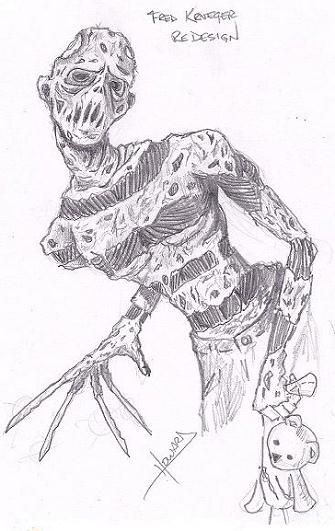 'I love Freddy and am a HUGE fan, and I feel like, if I was to do a remake of Elm Street, I would make Freddy look as hideous as possible (and also, look slightly different throughout the movie) because he is MADE of Nightmares. He IS nightmares. And I think his look should reaaaally reflect the 'boogyman' image. So this was me, playing around, to reinterpret an icon.'
The Elm Street remake undeniably dropped the ball in MANY areas, but I feel like the area where that ball was dropped most was in the look of Freddy himself. Plain and simple, Freddy looked like complete shit in the remake, not cool nor scary. The makeup choice was godawful, an attempt to make Fred look like a real life burn victim that just did not work. At all.
I don't know how well Lee's design would work in an actual movie, but I personally dig it quite a bit. And it makes me wish that for the remake, they decided to give Freddy a completely different look, like Lee did here. Scary shit man, I love it. And I love the idea of Freddy looking different throughout the film.