If there's one group of people that I support more than any other it's the customizers, the men and women who dedicate their time and artistic skills to bringing unto the world products tied to properties that likely will never officially get such treatment. In the horror community, the customizer truly is king, given the fact that we really only get merchandise (toys, masks, etc) based on a select few mega popular horror flicks. In other words, we're never going to get Dead Alive toys, which is where people like Gabe LaPeer come in to fill in the gaps!
Gabe runs a customs company called Homemade Horror, where the majority of his focus at the moment is on a line called Custom Crazies, mini hand sculpted and hand painted statues of his favorite horror icons, ranging from big time hit movies to smaller cult classics. Series 1 of the line was comprised of Gizmo & Stripe, a couple of Crites, Belial from
Basket Case
and the toilet dwelling Ghoulie from
Ghoulies
, all of which you can see over on the
Homemade Horror blog
.
Custom Crazies Series 2 was just completed, so let's take a look at what Gabe's got to offer this time around, beginning with perhaps my favorite piece he's made to date, which I now own for myself, thanks to Gabe's generosity ... Little Buddy from Halloween 3!!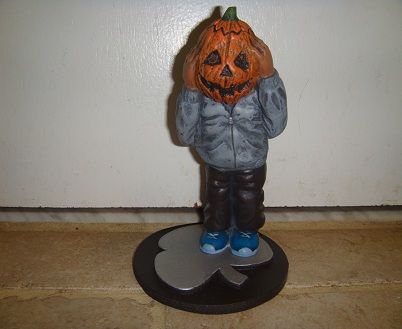 I'm so glad I got to see one of these for myself before I whipped up this post, because these things are even more impressive in person than they look in pictures. Not only are Gabe's sculpts and paint jobs picture perfect, but the sculpts are cast in plastic resin, making them very high quality and very sturdy. A lot of customs like this are just hardened clay affairs, which tend to fall apart if you touch them the wrong way, and I really can't stress enough how impressed I am with the craftsmanship Gabe puts into his work. These are the real deal, folks!
Pictures really don't do these justice, but here's the rest of Series 2!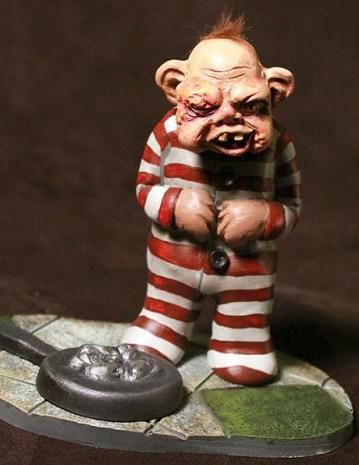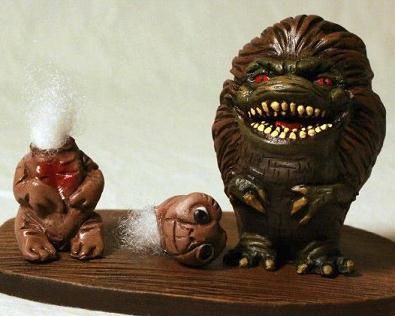 Gabe doesn't have an online shop yet, but if you're interested in purchasing any of these, drop him a message on the
Homemade Horror Facebook page
and he'll hook ya up. Be sure to tell him Freddy In Space sent ya!!