All you need to do is take one quick look around my house to know that I have a serious obsession with Trick 'r Treat, which is one of my absolute favorite horror movies of all time. Yes, I said of all time. What I am in love with as much as the movie itself is the loveable character of Sam, the protector of Halloween who is either the villain of the film or the hero of the film, depending on how you look at it. I choose to call him a hero, given his proclivities for only killing those who disobey the rules of Halloween. Fuck 'em, they deserved it!
Anyway. The point I'm trying to make is that I pretty much cannot resist buying anything and everything Sam related, be it officially licensed merch like toys and comic books or handmade goodies like the ones you're about to feast your eyeballs on. I stumbled upon a seller on eBay the other night named
sweetpea4us
, who specializes in hand made and hand painted wooden yard art. Ya know, the kinda stuff you stick into the ground to spruce up your abode. Amongst all the family friendly pieces, like Mickey and Snoopy, there were two that made my pants a little bit tighter and tempted me to make my wallet a little bit lighter ...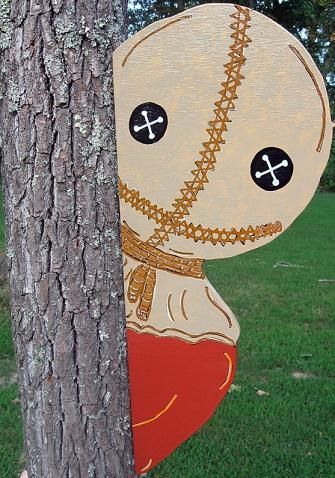 First up, we've got the Sam 'Peeker', a 26"x10" decoration that can be attached to a tree or even your house itself, to make it look like Sam himself is peeking out from behind whatever he's affixed to. It comes with brackets attached for easy displaying, and can be
bought now
for $34.99 (plus $11 shipping) or bid on, starting at $29.99.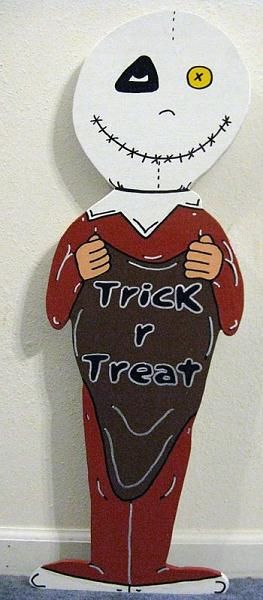 The other piece is a lawn decoration, with has a metal pole attached to it so that it can be stuck into the ground. It's 33"x11" and
can be bought
for $59.99 (plus $14.50) shipping, or bid on, starting at $49.99. What's really awesome about this one is that's modeled after the way Sam looked in Michael Dougherty's original animated short film
Season's Greetings
, which was the blue print for
Trick 'r Treat
. I have never seen any piece of Sam swag made to look as he did in that short, so this is a pretty cool and unique little item.
I don't know about you, but I'd feel a lot better having Sam guard my yard, not only on Halloween but all year round. I need to curb my eBay spending a bit, but something tells me I won't make it through October without ordering at least one of these!
By the way, how awesome is it that Sam has become such an iconic Halloween character? It seems to me that even people who aren't hardcore horror fans have come to love and embrace him as a symbol of Halloween, which has perhaps never been better shown to me than through these auctions. As I said, the seller pretty much sticks to making yard art based on family friendly icons like Mickey, Snoopy and Winnie The Pooh. The fact that Sam is included amongst those characters says a whole lot about his importance as a holiday icon. Makes me so very happy to see, I must say.
Not as happy as it makes me to see Sam disembowel those who disrespect Halloween, but pretty happy nonetheless!