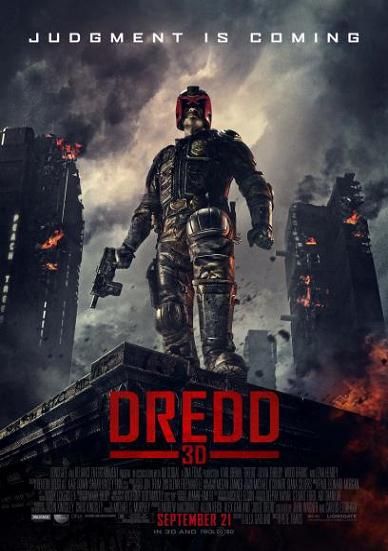 If you haven't seen
Dredd
yet and you're wondering if you should, please fill out the following questionnaire...

Do you enjoy watching dudes heads explode?

If you answered yes to this question, go see Dredd. If you answered no, they just re-released Finding Nemo into theaters, in 3D, so you might want to put your money on that instead.

Had an absolute blast with Dredd tonight, and I would highly recommend it for anyone who enjoys mass bad guy murder at the hands of a supremely badass good guy, and his sexy female side kick. Over the top, stylized and glorified violence is certainly not for everyone, but it's damn sure for this guy right here. I got pretty much exactly what I expected from the film, and I say that in the very best of ways. It's more or less a fusion of The Raid and Punisher : Warzone, an hour and a half action packed ride that's mostly comprised of watching bullets enter and exit people. Hell, they even created a drug for the film called Slo-Mo, which makes druggies feel as if they're living in slow motion, a drug which was worked into the film for the sole purpose of the audience being able to watch people get brutally shot in slow motion drug-o-vision. Yep, it's that kinda movie, kids!
My only complaint about the movie whatsoever is that I was forced to pay extra to see it in a way I didn't even want to see it, but I guess there's no use in even complaining about 3D at this point. Doesn't look like it's going anywhere for a while, so what can ya do. But good god. For $15.50 per ticket, they could've at least given us some badass souvenir 3D glasses that look like a Judge's helmet. If this 3D crap is going to continue, they really need to start adding some pizazz to those boring ass Woody Allen glasses.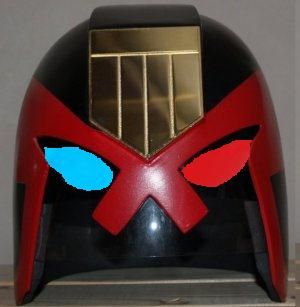 Dredd not being a horror movie and all, I honestly was going to just write up a brief couple sentences of my thoughts on the Facebook page, but I'm writing a full blown post here tonight because of the experience I had at the theater. Just gotta vent here for a minute, and there simply isn't enough room in a Facebook status update to vent in full. So here goes.
OK. So. As I was waiting on line tonight to buy my ticket, an older gentleman and his wife got up to the front of the line, and asked the ticket seller lady for two tickets to Trouble With The Curve, that new movie where Clint Eastwood breaks his Gran Torino promise about not acting anymore. Now, the thing about that is that the theater we were in was not actually playing that movie, which the cashier kindly informed the elderly couple. They ended up leaving, likely to look for a theater that was playing the movie.
After seeing this unfortunate display, a heavy set dude in his 40's started loudly expressing his feelings on the old couple to anyone within ear shot, ranting about how stupid they were for waiting on line to see a movie the theater wasn't even showing. Sure it's rather silly, but come on, they're old people. They don't know any better. The dude proceeded to rant and rave his fat ass all the way to the popcorn stand, exclaiming that the old couple represented "everything that's wrong with America!!!!".

Cut to a couple moments later. My friends and I are entering the theater to see Dredd, and who is right in front of us but that fat headed prick, who has at this point joined up with his wife and their small child of about 4 or 5. The three of them, going into the theater to see one of the most violent R rated films of the year, featuring everything from head shots to rape fantasies.
For the next hour and a half, in the back of the theater, came the very audible sounds of that very child making all kinds of weird ass child noises, crying and babbling in gibberish. Now I don't know about you, but when I'm watching dudes get shot in the face, I really don't want a 4 year old's commentary track running in the background. But more than that, I really don't want 4 year olds watching dudes getting shot in the face, while I'm watching dudes getting shot in the face.
Ya know what's wrong with America, you fat, loud, piece of shit? No, it's not old people who want to see Clint Eastwood play baseball. It's terrible fucking irresponsible parents like you that take their kids to see R rated bloodbaths, because they themselves want to see R rated bloodbaths. Sorry dude, you had a kid, now you've gotta live the life of a guy that has a kid. Either stay home and spend time with your kid or hire a fucking babysitter so you can go out and do adult things. Or better yet, take the kid to see Nemo or something that'd be good for him. You took your small child to see Dredd. Are you fucking serious, man? I repeat .... YOU ARE WHAT'S WRONG WITH AMERICA YOU FUCKING ASSHOLE!!!
Phew. I feel much better now.

So yea. Dredd is totally awesome. And if you're into wild and gory good times, then I can promise you your money is going to be well spent on it. It's one of those movies that doesn't beat around the bush and waste too much time with story, but rather consistently delivers the kinda shit your ass is in the seat to see. Hell, even the majority of the bad reviews I've read sound like good reviews to me ...

"Dredd is the worst movie of the year. It's nothing but endless and mindless bullet wounds and blood splatter for an hour and a half. A veritable highlight reel of mass murder."
Uhhhh .. that's a bad thing?!
Go indulge in some of the ole ultra violence. And leave the kids at home.