Last week, I kicked off a new feature here on Freddy In Space called
Superfan Spotlight
, intended to shed some light on what makes hardcore superfans .. well, hardcore superfans. The series was kicked off by my friend Ted Brown, who talked about his undying lifelong love for
Critters
, and the three sequels it spawned.
After I made that post, I got an e-mail from a guy by the name of Charles Muir, who wrote that he read the piece and loved it. He also mentioned that he is actually the cousin of Brian "Domonic" Muir, the man who wrote and created the original Critters. He told me that his cousin passed away back in 2010, after a long battle with cancer, and that he had in the past couple years taken on the role of being Brian's posthumous agent of sorts, self publishing some of the unpublished work he left behind and thus, keeping his cousin's memory alive.
Charles actually sent along a short essay Brian wrote up about the writing and creation of Critters, which he generously told me I could share with Ted. I indeed did but I also wanted to share the essay with all of you guys and girls, which Charles agreed to let me do.
So to all you Critters fans out there, here's a brief essay the late Brian Muir wrote about his experience with the film, which is to date the only thing Charles has found where Brian discusses the movie. Huge thanks to Charles Muir for getting this out there, and for letting me publish it here on Freddy In Space.
Enjoy.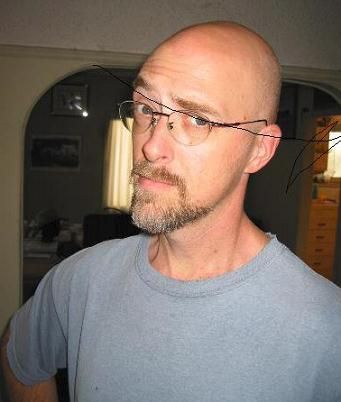 THE GREATEST SCREENWRITING ADVICE EVER:
A LOOK BACK AT CRITTERS
Movies must move.

I don't mean to say that they must move one's spirit, though many of the great ones do.

What I mean is that they must have forward momentum.

When writing a novel, the writer has the luxury to stop and smell the roses.

Characters can reminisce for entire chapters about events barely relevant to the plot, if at all but screenwriters don't have that luxury (despite Tarantino's later films, given to long wearying stretches of incessant pointless blather).

This lesson regarding a screenplay's forward momentum was presented to me many years ago and in a roundabout fashion.
One of the first scripts I wrote was Critters, which through perseverance, timing, and a hell of a lot of luck was produced by New Line Cinema.

As we were about to go into production, the Executive Producer called a last-minute script meeting to discuss a few problems he was having with the latest draft of the script.
Now, the Exec Prod of that flick was none other than Bob Shaye, the fantastically successful head of New Line, responsible for the Rush Hour and Lord of the Rings trilogies, and all kinds of big movies too numerous to mention.

Critters came right after their blockbuster hit Nightmare on Elm Street (but before Nightmare 2).

Bob knew he had to build on the success of Nightmare, so he wanted to make certain that our script was just right and he was taking a hands-on approach.

As a first-time screenwriter I welcomed his input.
During the meeting, we went through the script scene by scene, going over Bob's comments.

All went smoothly and the changes were relatively minor, until we came to a particular section of the script that Bob felt was problematic (to this day, I can't remember what it was; it isn't really important).

However, Bob couldn't elucidate exactly what he felt was wrong with this part of the script.
"Well, is it the characters?" I asked.

"Maybe they're not behaving right."
He crinkled his brow.

"I don't know."
"Should I restructure that section?"
He didn't answer, clearly in a state of vexation.
"Is it the action?

Do you want me to re-write the action?"
He seemed almost in pain, his whole face folding up like a prune swallowing a lemon.

The action wasn't the problem.
"Should I do a dialogue polish?

Would that help?"
"Maybe," Bob said, dragging the word out as if it had twelve syllables.
I was growing frustrated.

"Well, what exactly do you want me to do?"
He finally threw his hands in the air.

"Look, just somehow, have somebody, do something!"
This was an excited utterance, the sputtering of a man clearly licked.

But after a moment of stunned silent contemplation, I had to admit to Bob that I could indeed somehow have somebody do something.
This assurance seemed to satisfy Bob, for he wrapped up the meeting and I did the final changes on the script (though it was to later undergo other tampering, which I will detail in another tale).
Since that meeting, I have returned to that advice often, especially when troubled with whatever screenwriting problem I'm currently dealing with.
Think about it: Somehow have somebody do something.
Raymond Chandler's writing advice could be reduced to a simple creed: When in doubt, have two guys come through the door with guns.

If you're familiar with Mr. Chandler's great works, clearly he was often in doubt.

It's a nice lesson, but not always appropriate.

After all, what if one is writing a romantic comedy about a geriatric couple in a rest home?

Waitaminute… two guys coming through the rest home door with guns… Hmmm… But I digress.
With all the tomes on screenwriting published every year, and the myriad "rules" of Hollywood structure, character arcs, act breaks, and whatever other lesson the studio executives and development gurus have embraced for the day, one rule remains constant and should always be adhered to when working on any script:
Somehow have somebody do something.
I wrote the first draft of Critters when I was nineteen, still living with my parents, brothers and sister in West Linn, Oregon.

But I was already a fan of movies, reading everything I could about them.

I made my own Super 8 films and even converted my closet into a little editing room.

And as of the early summer of 1981, my plan was to take every penny I had and go down to L.A. to try and make it in the movie biz.

Naïve, ridiculous, insane; the way of all dreamers.
I figured it would be a good idea to have a script under my arm when I arrived in town, ready to take Hollywood by storm.

Horror films were popular moneymakers (and still are; will always be), and since I loved horror movies and had even made some of my own, I decided to write a horror film.

But what kind of horror film?
I felt back then that the key to any successful horror film was the menace, the monster.

What do we think of first when remembering our favorite horror flicks?

We remember Frankenstein's monster, the wolfman, the Creature from the Black Lagoon.

We remember King Kong and Godzilla, Leatherface and Jason.

The other characters don't spring first into our brains, nor the plots of these horrors, but rather the star monsters.
So what would my monster be?

I felt it had to be something that could be filmed on a relatively low budget, smartly deducing that my first contacts in Hollywood (despite the grandiosity of my dreams) would not be with the big studios with the extravagant budgets.
I don't recall but I think I came up with the title before the monster: Critters.

It was a word that we have all used at some point or another, an all-encompassing word used to describe any creepy-crawly and sometimes even larger varmints, but generally it called to mind a smaller creature and smaller monsters are generally scarier than bigger ones.

They can slither, crawl, creep and sneak into tiny nooks and crannies; they might move fast and come at you from all angles, whereas a bigger monster, even one man-sized, is more restricted in terms of their movements, speed, and possible hiding places.
So the Critters would have to be small.

I thought for a long time about what they would look like and eventually came up with four-legged, furry, and with a mouth full of multiple rows of teeth, always hungry.

The way they were described in that first draft of the script remained true until we shot the film, and the Chiodo Brothers realized them exactly as I had first pictured them in my mind during that hot summer of '81 up in my old bedroom.

The additional – and definitive – detail of their ability to curl into a ball and roll from place to place was a Chiodo invention.

That for no other reason proves they were the perfect guys to bring these beasties to life.
I knew I wanted the Critters to come from outer space because I was also a 19-year old science fiction fan, and the melding of sci-fi and horror seemed like a good idea at the time (surprisingly, this melding of genres never came up as a deterrent before or during production, but in the years hence I've encountered that roadblock on a number of projects).

Having the Critters be convicts from space - not the first visual we think of when we conjure up the image of a convict - was my tribute to "The Zanti Misfits," one of the great episodes of The Outer Limits.
I wrote the script on lined three-hole punch stationery, longhand, in pencil.

When I drove down to Los Angeles on Sept. 9th, 1981, it was packed with all of my other worldly belongings in a U-Haul trailer.
It remained in a drawer, or otherwise out of sight for over two years.
Charles also shared with me a little story about the last screening of
Critters
his cousin attended, which is pretty funny. Ya see, prior to Brian passing away, a print of
Critters
was only shown once up on the big screen since its original premiere, and something wasn't quite right with the print...
At the last screening of "Critters" that my cousin attended, it turned out the Crites had mysteriously been removed from every frame. He thought it was hilarious. At the time that was the only complete print known to exist. After he died, a buddy of his discovered a few reels buried in Brian's closet under layers of cat hair and clutter that turned out to be a complete print containing the Critters. Brian forgot he had it! I think this is a great anecdote. The reel was used in a screening in Brian's honor at the New Beverly Cinema a few years ago; not sure where it is now.
That screening at the New Beverly took place in late 2010, and became the first time a complete 35mm print of the film was ever shown, since the original release!
If you'd like to read more of Brian Muir's writing, Charles has compiled some of his unpublished short stories, along with the above essay, in a self published digital book called Collapsar And Other Stories, which you can buy for a mere $1.99 over on Amazon, as well on Barnes & Noble's website. You can also keep up to date with Charles and his efforts to keep his cousin's memory alive and well by following the Brian Muir fan page on Facebook, which Charles operates.
Charles, once again I say thank you, and please do keep doing what you're doing. Brian is lucky to have someone like you there to keep his legacy going, as are all of his fans.