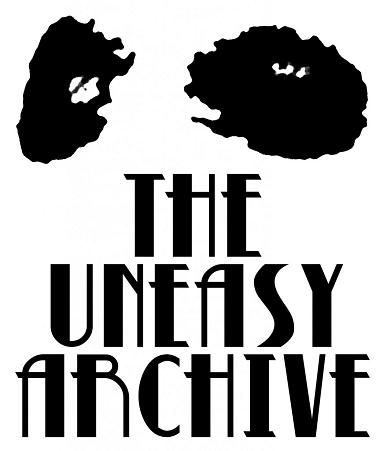 With the VHS resurgence now in full swing, a company called
The Uneasy Archive
has popped up on the scene, dedicated entirely to brand spankin' new VHS releases of cult films that they deem "uncomfortable" (hence, the name of the company). Their goal is to "Preserve The Precarious", which they do by releasing very limited editions of rare (and oftentimes) sex-tacular cult flicks onto VHS tapes, ensuring they get into the hands of hardcore collectors, and thus never get stuffed into a box or become paperweights. Each VHS tape is housed in snazzy clamshell packaging, with a poster included, and is limited to just over 20 hand numbered pieces.
Tomorrow, between 9 and 10pm EST, Uneasy Archive will be unleashing their seventh release, their very own VHS re-release of Donald Farmer's
Savage Vengeance
, the 1993 film (though supposedly shot in '88) that serves as an unofficial sequel to
I Spit On Your Grave
, with Camille Keaton (under a pseudonym) reprising the role of Jennifer (the last name Hills was removed due to legal issues, this being an unofficial sequel and all). The film, which is now out of print on DVD, finds Jennifer once again getting raped in the woods, and once again exacting her special brand of post-rape revenge. 23 copies of the tape will be selling exclusively tomorrow night in the Uneasy Archive Facebook group, with a final batch of 26 selling at next month's
Cinema Wasteland
convention, at the Massacre Video booth. The online copies will feature a
black clamshell case
(and will come signed by Donald Farmer), and the subsequent Cinema Wasteland copies will have a
white case
.
Now in addition to the limited regular releases of each of these VHS tapes, Uneasy Archive also tends to whip up one super duper special edition for each one, which is limited to one single piece and features alternate clamshell color and sometimes even different artwork. The special edition for
Savage Vengeance
has a
pink case
, and it will be randomly given out to someone who orders the online black version. Now this is where things get really exciting. You ready?
For this release, Uneasy Archive also made up a second special edition 1 of 1 piece, which is the first time they've ever done that. This is the Freddy In Space Exclusive Edition, which Uneasy Archive was awesome enough to create for me, and which will be given away right here right now, and will then never be seen again. So listen up, videovores!!
The Freddy In Space edition, hand numbered 1 of 1, is housed inside of a very special neon green clamshell case (with a partially green tape!!), with art that is exclusive to this copy (Uneasy Archive gave you Freddy In Space readers the special explicit art, cause they love you), and it will come signed by director Donald Farmer (the only reason it doesn't appear to be signed in the above photo is because the tape will be hand signed by him next week at Cinema Wasteland). A poster will also be included, inside of the sealed clamshell case. The coolest thing about the release, however, is that it's got the Freddy In Space logo printed onto the back cover, so there can be no mistake that this in fact the one and only Freddy In Space special edition of the release!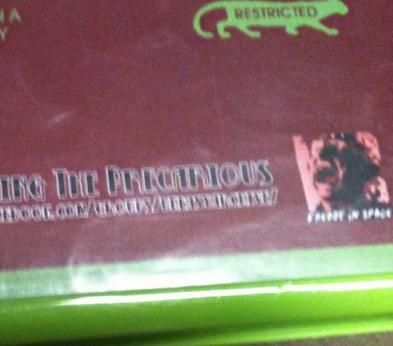 How fucking awesome is that? I've given away a lot of cool shit in my years of running this blog, but this may be the coolest. It's certainly the most special, and I am incredibly honored to now be even a small part of VHS history. Sure do wish I could keep this tape, but I'm happy to give it away to any one of you readers out there who will truly cherish it. So please, promise me you'll cherish it.
If you want to get your hands on it, all you've gotta do is join up with the
Uneasy Archive group
on Facebook, and then come on back here and leave me a comment on this post letting me know you did so. A simple "I joined the group!" will do. Be sure to also include your e-mail address, so I can get in touch with you if you win. This very special giveaway will run through next Thursday, October 4th, so be sure to get your entries in before the clock turns over to midnight next Friday morning!!
If you're interested in picking up the Facebook group exclusive black clamshell addition, signed by Donald Farmer, you can do so tomorrow night over in the Uneasy Archive group. That release is again limited to 23 pieces, and they'll be selling for $23 a pop. After those sell out, Cinema Wasteland next month is gonna be the only way to get your hands on one of these, in any of its forms. As for this particular edition, I must again reiterate that the one being given away right here right now is the absolute only one that will EVER be made, so this is your absolute only chance to score it. And if don't want to miss out on adding this release to your collection, I must urge you to not forgo ordering it in the hopes that you'll win the giveaway. I sure as hell hope you (yes, YOU!) win, but I wouldn't want you to count on winning and as a result, miss out on ever having the chance to own this. Because trust me, it'll sell fast. And besides, even if you do win, the editions are totally different from one another, so it'll be cool to have both anyway!
You can learn more about Uneasy Archive, keep abreast of their future releases, and check out all past releases over at the
Uneasy Archive Facebook group
, which you should by the time you're reading this portion of the post already be a member of!
Huge thanks to The Uneasy Archive for being so awesome and getting me involved with this release. Honored and elated doesn't even begin to describe how I'm feeling!!