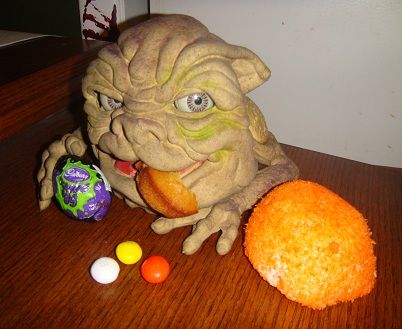 I absolutely love going into the grocery store around this time of the year, and hunting around for all the different Halloween themed goodies, be it pumpkin flavored everythings or Halloween spins on classic year round products. Here are a few such treats I've found in my recent grocery store travels!
Remember that scene in
Zombieland
where Woody Harrelson finds the abandoned Hostess truck, and is so disappointed to find Sno Balls in there instead of Twinkies, that he proceeds to stomp on top of all the Sno Balls? Yea, that scene pains me every time I watch the movie. Ya see, you're pretty much either a Twinkie guy or a Sno Ball guy, and though I love my Twinkies, I've always been more of a Sno Ball guy (get your mind outta the gutter). And it's both the taste and the consistency I dig. So suck on that, Tallahassee.
During the Halloween season, ordinary everyday Sno Balls take on an orange coloring and become Glo Balls. While the taste is no different from the regular Sno Balls, sometimes, color and name changes are plenty enough. Hell, all Twinkies did this year was throw a few pumpkins and bats
on their box
, so these bad boys come out smelling like a rose on the Hostess rack. Come on Twinkie ... pumpkin spice filling. Get with the program.
**FUN FACT : Back in 2010, Hostess released green colored Glo Balls during the Halloween season, with The Green Lantern as their mascot!**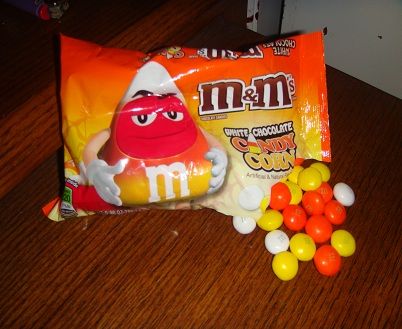 White chocolate Candy Corn M&M's made their debut last Halloween, and they're back again this Halloween. Somehow, these totally slipped past me last year, unless I actually did eat them but was so jacked up on pumpkin beer that I don't even remember. Which is entirely possible.
In any event, I'm not too impressed with these. They've got that same artificial candy corn flavoring that this year's debuting
Candy Corn Oreos
are rocking, which means they don't exactly taste like what they're trying to taste like. I'm usually impressed with the flavors M&M's have infused into them, like cherry and coconut, but not so much with these. Just like the Oreos, they're decent enough, but I prefer the standard chocolate varieties.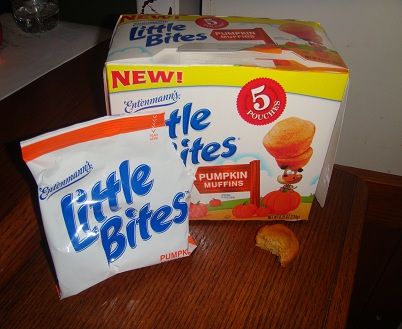 I haven't encountered too many pumpkin flavored things that I don't absolutely love, and these are no exception to that proclamation. From what I understand these are new for the 2012 season, and Entenmann's has gone all out this year on the pumpkin front, unleashing larger size pumpkin muffins, pumpkin loaf cakes and even pumpkin donuts. Holy pumpkins, Batman!
These little guys are absolutely delicious, moist and robust with pumpkin flavoring. They're made with real pumpkin, which is always a plus. And it shows. Next time I hit up the Entenmann's end cap in my local grocery store, I think I'll be picking up the full size muffins though, as these are a bit too small to really satiate my voracious pumpkin appetite. Every morning in September and October should begin with a pumpkin muffin and a cup of pumpkin coffee, and I'm happy to say that most of mine do!

Cadbury launched their Screme Eggs line back in 2010, exclusive to a store called ASDA in the UK, and they became widely available in the US last year. Like the Glo Balls, the Screme Eggs are exactly the same flavor as the Creme Eggs, with the only difference being that they've been given a spooky new name and have a festive Nilbog green center. Absolutely perfect for Troll 2 parties, which every horror fan on this planet should host at least once a year. I know I do!
Not sure how eggs figure into Halloween, like they do with Easter, but I'm not complaining. I'm all for Cadbury Eggs being around all year round, even if they bring pain upon my cavity ridden teeth like nothing else. Can't ... stop ... eating ... them.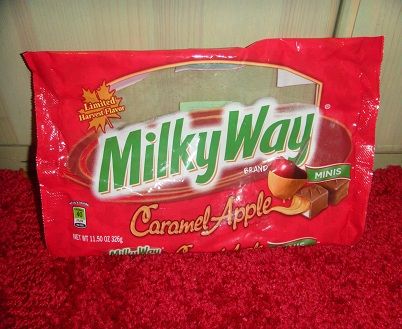 And finally, we've got the Caramel Apple Milky Ways, which are brand new for the 2012 Fall season. If you're wondering why you see no picture of these at the top of this post, and why the above picture features nothing but an empty bag, that'd be because they're so damn good that my Boglin friend and I polished them all off before it came time for the photo shoot. Oops.
Caramel Apple was a natural fit for Milky Way, being that they already are filled with caramel and all. I'm not the hugest fan of chocolate candies, nor do I even like apples, but these are app-solutely delicious. See what I did there?
Picture yourself eating an apple that's been dipped in caramel and then covered in chocolate, and you'll get an idea of what these taste like. The flavor is totally on the money, and I would imagine I haven't eaten my last Caramel Apple Milky Way of the year. Sorry, expanding waistline. But I've got gobble these up while they're still around. I trust you understand.
So, what Halloween themed treats have you had so far this year? Leave a comment and let me know!