Is it just me or is there something incredibly cool about vintage lunch boxes? Picked this one up on eBay last week, which I had never even seen before. I had been watching it for a few days, with a Buy It Now price of $24.95, when suddenly the seller tacked a 24 hour 10% off discount onto the auction, bringing the price down to $22.45, with free shipping. SOLD!
This export from 1991 is of course a piece of swag tied to the animated series
Toxic Crusaders
, which was a
Ninja Turtles
inspired spin off of Troma's 1984 film
Toxic Avenger
. Still blows my mind that someone decided It'd be a good idea to turn a gory Troma movie into a children's cartoon about mutant monster heroes, but I sure am glad that someone did. The series only lasted 13 episodes, but nevertheless spawned a slew of merchandise, including several games and a popular
line of toys
based on Toxie and his environmentally friendly mutant buddies.
It's funny because I remember watching Toxic Crusaders as a kid, and playing with the Toxie toy a lot throughout my childhood, but it wasn't until many years later that I saw The Toxic Avenger. And it would be a few years after that when I came to realization that the monster hero from the cartoon was in fact the same monster hero from the Troma movie. Needless to say, my mind was kinda blown when I realized that I had been loving Toxie my whole life, without even realizing it!
But back to the lunch box. Let's open this bad boy up and see if there's a Thermos inside!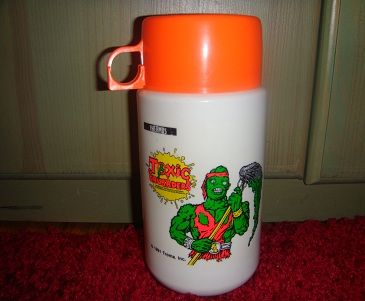 Indeed there is! Too cool. This thing is in incredible condition, with the only real issue with it being that it doesn't have the piece on the inside that holds the Thermos in place. But it was advertised as such in the auction listing and I really don't even care. Not gonna be taking this thing off to work with me, as it's more of a nice display piece for my room than anything else. And boy does it look snazzy in here.
All hail the monster hero!!