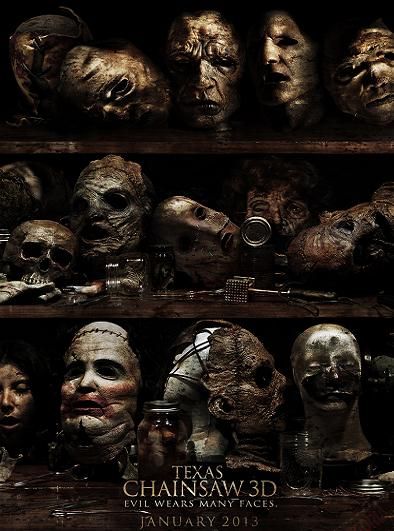 Ever since the plot details for the next installment in the Leatherface saga were announced, I have been very excited and supportive of the film. There's been a lot of hatred hurled towards it already, which is natural for any new installment in any beloved franchise, but I have personally yet to see anything about the movie that's not worth being excited about (aside from the 3D aspect, but no one's gonna force me to watch it in 3D). I absolutely love the idea of a direct sequel finally being made to the original Texas Chainsaw Massacre, a totally ambitious and ballsy move that I can't help but fully get behind. I dig each and every film in the Chainsaw franchise, for different reasons, and I think it's so cool that all these years later, we're finally going to be fed a continuation of that original story that we all know and love. Oh and that poster is fucking awesome. And it's got Bill Moseley in it. Which is also fucking awesome.
While details have been kept well hidden under wraps throughout the year (it wasn't until last week that we even saw the
first screen grab
!), the trailer for the film, now simply titled
Texas Chainsaw 3D
, finally hit the net this morning. I'm sure you've already watched it by now, but here it is for those who may have missed it, along with my early thoughts on the film, now that we've actually seen footage from it!
First thought? Remember when that movie called The Thing came out last year, and we were all promised it was going to be a prequel to Carpenter's movie, but it was really just a cleverly disguised remake of that movie? That's kinda how I'm feeling about this one right about now. Chainsaw 3D looks to me like it's more or less another remake of The Texas Chainsaw Massacre, only going around wearing the flesh mask of a sequel to the 1974 flick, as a way of luring in and enticing all of us hardcore fans of that movie, and avoiding the fan hatred that comes along with anything dubbed a 'remake'. Judging the film solely based on this 2 and a half minutes of footage, which of course isn't really all that fair, it looks to be more of the same type stuff we were given with the Chainsaw remake and its prequel. In fact, it almost looks exactly like the awesome 2003 remake, only with a different cast.
The main thing I was most excited about in regards to this movie was the promise that it would pick up right after the final moments of Chainsaw '74, and I was hopeful that the film would entirely take place back in the 70's, right after those events. But it looks like the movie is going to jump ahead to the present day after what will probably be a brief set in the 70's intro, and essentially from there turn into nothing more than another Chainsaw flick, with a different cast of characters coming face to face with Leatherface and his big ass chainsaw. Meh, not the vibe I was expecting from this, though I guess the film I had built up in my head for the past several months was a little too good to be true. I guess I knew I was expecting way too much fan service from this one, but the trailer doesn't even indicate in the least that this is the 'direct sequel' we were promised, which makes me sad. Unless of course by 'direct sequel' they meant 'a remake of the remake'.
That being said, I personally am a big fan of the Chainsaw remake, and I dug the prequel too, so I'm still totally on board for this one. It may not be exactly what I was hoping for, but I'm always down for some good old fashioned slicing and dicing action, courtesy of my main man Leatherface. So color me interested and still a bit excited, just not as excited as I was before watching this trailer. What else is new though?
Leave a comment below with your thoughts on the trailer!
**Back in June, I interviewed Dan Yeager, the man who is playing Leatherface in this film. Head back in time to check that out, if you missed it!**