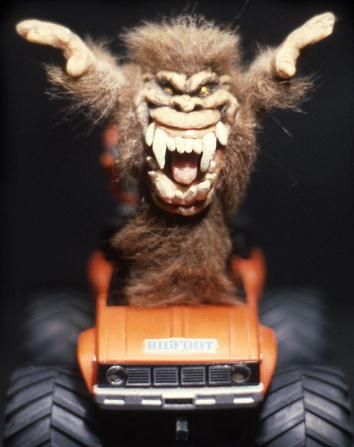 One of my favorite toy designers out there is Mel Birnkrant, a dude who often created toys with a horror theme. Remember the
MAXx FX
and
Trash Bag Bunch
toys I've recently talked about? Well those were both the brain children of Mr. Birnkrant. I rest my case.
As with any toy developer, Mel has dreamt up several different concepts that for whatever reason never made it onto toy shelves, the majority of the
MAXx FX
line being one of his most well known ideas that never quite came to fruition (damn you, talking Freddy doll!).
Tonight, we're here to talk about
Monster Trucks
, another line of awesome toys that we almost had in our lives, thanks to the genius of Mel Birnkrant!
Remember the Hot Wheels
Attack Pack
vehicles that Mattel released back in the 90's? Long story short, the
Attack Pack
were a line of cars, trucks, planes and other vehicles that looked normal enough, but would open up to reveal sharp toothed monster mouths at the press of a button. If you have no idea what I'm talking about, refer to this
vintage Attack Pack commercial
, which should explain it all in a far cooler way than I ever could. Because, ya know, cars eating other cars are a whole lot cooler than my words. I'm OK with that.
Now before the Attack Pack came along, Mel Birnkrant came up with a similar concept, which he was all primed and ready to pitch and get onto the market. Taking the term 'Monster Trucks' quite literally, Birnkrant decided to create a line of monster trucks that housed inside them actual monsters. The idea was that the trucks looked like the average big wheeled monster trucks cool dads took their kids to see, but when they collided with the wall, or with each other, monsters would spring up out of them, like a Jack In The Box for straight kids (It's a joke, relax). Thus, Monster Trucks. They're monsters. They're trucks. They're monsters in trucks. That look like monster trucks.
Again, video is far better than words, so check out a little demonstration video that Birnkrant made to pitch the line, using prototypes of his Monster Trucks!
In addition to those two prototypes, Birnkrant also drew up several other truck concepts, which I'll pretend you didn't see at the end of the above video. So pretend with me and check out his other concepts below!
Unfortunately, the death of this line was that the Hot Wheels
Attack Pack
line came out before Birnkrant ever got to pitch his prototypes and sketches, forcing him to pack his work inside the presentation case and move on. The ideas were simply too similar, and Mattel beat him to the punch on the concept. Sad, being that these are far cooler than the
Attack Pack
vehicles even were. And they were pretty damn cool.
You can see more of Mel Birnkrant's creations, the ones that made it to shelves and the ones that didn't, over at his
official website
. Or, you can just wait until I post about them, because I probably haven't typed the name Mel Birnkrant for the last time here on Freddy In Space. Not by a long shot!