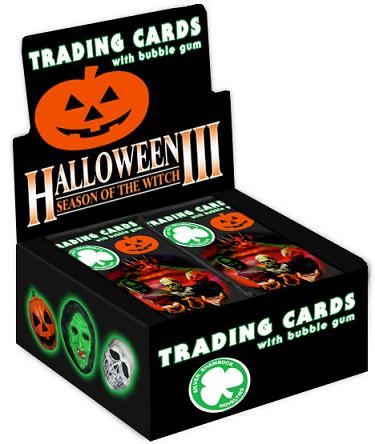 Freddy In Space's resident graphic artist
Frank Browning
and myself have got a little something special for ya tonight, in celebration of this week's
Halloween 3 'Silver Shamrock Edition'
DVD & Blu-ray release from Scream Factory. I had Frank whip up some nifty
Halloween 3
trading cards, and right here tonight, I am gonna give you fine folks the distinct honor of opening up a pack for yourself. You can do such things nowhere but here on Freddy In Space, so I hope you feel special. Because you are. And you should. Now reach into the box above and pick out a pack!
Ooh, good choice. I've got a good feeling about this one. To open it up and see which cards you got, simply give the image of the pack a left click with your mouse, and peel back that wrapping. Just be careful with the rock hard stick of orange gum in there. The orange dye Frank concocted in his basement hasn't exactly been tested on humans yet, so proceed at your own risk!
40 more days 'til Halloween, Halloween, Halloween, 40 more days 'til Halloween,
SILVER SHAMROCK
!!