Back in July, I featured an old
Goosebumps toy commercial
as one week's Vintage Video Of The Week. At the end of the post, I mentioned that the
Haunted Mask
Halloween mask was my most wanted
Goosebumps
collectible, and in fact it's long been one of my most sought after horror collectibles ... period.
As I mentioned in a post I made after winning that
Boglins style Goosebumps toy
on eBay last month, the large majority of the
Goosebumps
toys released in the 90's are for whatever reason incredibly hard to find, very rarely popping up on eBay and never really even mentioned or pictured anywhere else on the net. The toys don't seem to be very valuable, or in much demand, but nevertheless you don't come across them very often.
Every once in a while I do an eBay search for the mask from The Haunted Mask, probably my favorite of all the Goosebumps stories, but I don't believe I've ever actually found one listed on there. You'd think the masks would've been highly mass produced, due to the popularity of the franchise, and thus all over the place, but that's again for whatever reason not the case. In fact, do a Google search on the mask, and all you'll really come up with is the above picture, from an old Goosebumps toy ad.
A few weeks back, I got an e-mail from a man by the name of David Sine, who actually came to my blog through a search for the mask. Since I had posted the picture above within the aforementioned Vintage Video post, my site was one of the first ones that came up in his Google search. See what I mean?
Now the thing about David is that he wasn't looking to buy one of the masks, but in fact he was actually in possession of one, which he was looking to determine the value of. Since the Goosebumps collectibles are really only as valuable as what any given person will pay for them, with no real way to check on what they usually go for, since no one ever really seems to sell them, David decided to just e-mail me and see if I still wanted the mask. Of course, I did, so I made him an offer that he was kind enough to accept. I won't say how much I paid for it, but I will say that David hooked me up with a pretty damn reasonable price, which I'm very thankful to him for. It was 20 bucks.
So finally, as an adult, I now own something that I always wanted when I was younger; the Goosebumps official Haunted Mask Halloween mask!!
Wow, really can't believe that I can now say that I've actually worn the Haunted Mask ... cross that one off the ole Bucket List! And let me tell ya, since this thing was clearly built for children, my big head fills it out to the point that when I put it on it literally feels like it is actually stuck to my face, and that I'll never be able to get it off. With a normal mask, that'd bum me out. When it comes to this one, that's all part of the experience!
I will say that though the mask is in pretty good condition, aside from a couple stains, it absolutely reeks of cigarette smoke, to the point that I'm inclined to believe that the mask was actually used as an ashtray. Good god, can someone remind me why the hell anyone thinks it's a good idea to smoke?! YOU PEOPLE STINK!!
(No offense David, if it was indeed you who imparted such a foul smell onto this thing!)
But hey, it's the goddamn Haunted Mask .. so I guess that's all part of the experience too. No? Not buying that one? Well, fine.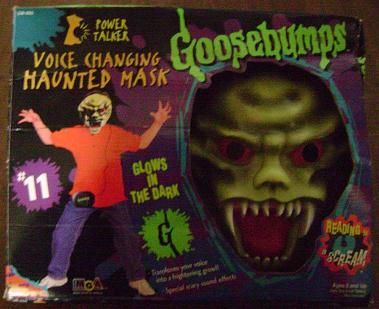 The next object of my desires? The other Haunted Mask mask that they put out in the 90's, only this one was glow in the dark and had a voice changer built into it. I'd imagine it'll be a long while before I come upon one of these, but if anyone out there has one, please do hit me up!!
One last thing I want to mention is that one of my favorite independent mask companies, DWN Productions, made a pretty kickass mask inspired by the
Haunted Mask
that you can get
over at their website
. It's gonna cost ya $125, but it sure is purdy!