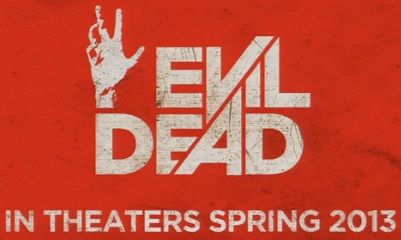 Ya know why I love the internet? Because even though I couldn't be at New York Comic Con this weekend, like I was last year, I still was able to watch the Carrie and Evil Dead remake panels just a minute ago, from the comfort of my computer chair. Hell, a lot of people who paid to be at the event didn't even get in to see them. Need I say more?!
Both panels featured cast and crew from the two films, with each revealing the first footage that has ever been seen. Unfortunately the footage wasn't shown on the live streams, but I'd imagine it'll be hitting the net real soon. Hope hope!

What I do have for ya though is the very first image from the upcoming Evil Dead reboot, which I managed to screen grab from the live stream of the Q&A panel, which featured Bruce Campbell, star Jane Levy and director Fede Alvarez. And I think you're gonna dig it!!
Based on everything I've heard about this movie, and everything that Bruce said during the Q&A, I am nothing but excited about it. Bruce seems to be incredibly happy with the finished product, and is sure that it will please all hardcore fans of the franchise he helped make so beloved. Alvarez said that there will be plenty of winks and nods to the original Evil Dead films within the remake, and lots of little hidden goodies that super fans will pick out and love. He also said that the movie will be more like the first Evil Dead than the second, in that it'll be more of a straight up horror flick, and that there may or may not be a tree rape scene. I'm hoping for MAY!
Bruce seemed kinda dickish during the panel, but assured that our collective shit will be "just as freaked" as it was the first time we saw the original Evil Dead, and that he will be accepting all of our apologies for bashing the remake once the Monday after its release rolls around.

Levy didn't have much to say, but Campbell did refer to her character in the film as the female Ash.
Again, I didn't get to see the footage that was shown, but the panel moderator mentioned that a chainsaw and vines wrapping around a woman were seen in it, and the audience seemed to love what was shown.
One last little tidbit. Director Fede Alvarez talked a bit about how he came up with the names for the five characters, and he mentioned that there's a little easter egg to be found if you look at and put their names together. So
go do that
!
In terms of the Carrie panel, I really don't have much to report, other than that the film will be based more on Stephen King's book, and not on DePalma's remake. So that's a good sign.

I leave you with a phone number that you absolutely must call, for a fun little treat. DO IT!!