I've made a few different posts in recent times about my buddy Gabe LaPeer's company
Homemade Horror
, most recently when I showed off that super cool
Halloween 3
'Little Buddy' statue
he sent my way. I also made a post way back in August of last year about Gabe's line of '
Karbonite Killers
', wall plaques depicting iconic horror movie characters encased in Carbonite transport blocks, ala Han Solo in
Star Wars
. Totally unique and incredibly creative, which is the kinda thing I love to show off here on Freddy In Space.
Tonight, I'm very delighted to not just show off Gabe's latest Karbonite Killer, but also give one away, for free, to you. Yes, YOU. So listen up, you!!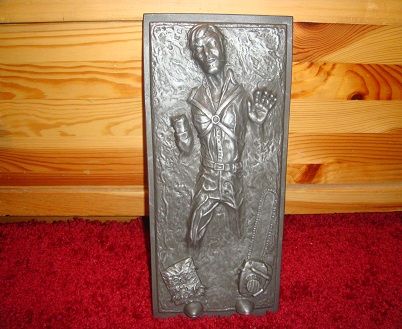 Encased in Carbonite along with his trusty chainsaw hand and of course, the Book of the Dead, Ash measures a whopping 13"x6", and was hand sculpted and then hand cast in plastic resin by Mr. LaPeer. In addition to
the back
being signed by Gabe, it is also outfitted with a nifty little command strip, allowing you to hang Karbonite Ash on your wall, no other parts or tools necessary. So easy, even a one handed Ash could do it!
I cannot stress enough how impressive this thing is in person, which a little picture can't really capture. I had seen pictures of these online, but was totally blown away when I got this piece in the mail, and saw just how big and heavy it is. There are some giveaway items I get sent that I have a real hard time parting with, when it comes time to actually posting the giveaway. This is most definitely one of those items. And that's coming from a dude who's really not even into Star Wars!
But, I must give it up. So, if you want it, here's what I'm gonna make you do to get it!
Head over to the
Homemade Horror Facebook page
, become a fan (by clicking that 'Like' button), and then drop me a comment below with your e-mail address. If you're already a fan of the page, then just go straight to commenting. Yep, that's it. You have through next Tuesday, October 16th, to enter, so be sure to get your comments in before next Wednesday rolls around. In the meantime, I shall pretend this is mine to keep for the next week.
Good luck to all and remember, ASH SHOT FIRST!