I know what you're thinking ... '
But John, you just started a new giveaway two days ago!!
'
Yep, I did. And I generally only like to have one giveaway going at a time. But ya know what. I've found myself with so much awesome shit to giveaway from now through Halloween, and so we're gonna have to overlap here a bit. I trust that you'll be able to deal with it!
Tonight we've got a little Halloween fun courtesy of Robert Paul "Nix" Nixon, an artist and photographer who describes his work as "a dirty, deadly mash of schlock horror, hot rods, pin ups, and two color grime." Yep, that about sounds right up my alley!
Every Halloween season, Nix whips up some very special Halloween treats for his fans, under the banner "The Spookery". This year, he's got a set of six 4"x6" postcards that depict his own takes on some Halloween icons, like candy corn and a trick or treat bag, that feature on them sad little stories about those characters' inevitable fates. Nix refers to them as being "mildly disturbing and macabre, but ultimately adorbz". Couldn't have said it any better myself!
Check out the postcards below, which are printed on 100 lb. French 'Butcher Paper', and are all ready to be sent out to those friends and family that embrace the Halloween season as much as you and I!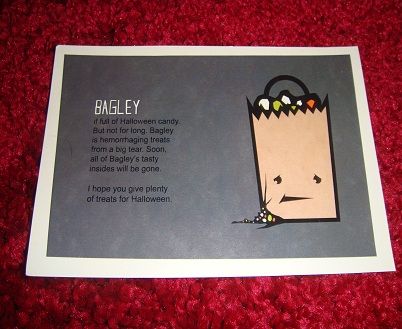 In addition to the set of six postcards, Nix has also thrown in a button set, featuring all six of the loveable characters featured on the cards!
To enter to win this whole
Unfortunates
prize pack, become a fan of
Nixon Design on Facebook
, and then leave me a comment below with your e-mail address. That'll be all. Giveaway will run through next Thursday, October 18th, so get your entry in by then!
Good luck and a huge thanks to Robert Nixon for supplying the goodies. You can see more of his art over on
his website
!!