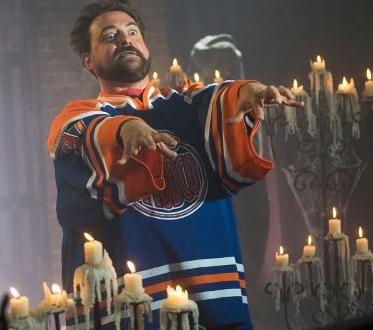 Just two little tidbits I want to share with ya tonight...
First off, if you're like me and you love watching horror movies on TV around this time of the year, but you find it too difficult to keep track of all the different channels that are having Halloween horror movie 'thons throughout the month, stress yourself out no more! I just learned of a website called
Halloween Movies On TV
, which updates each day with the horror films that are going to be on TV for that day, and also has full lists of schedules for networks like AMC and ABC, who have all kinds of tricks and treats up their sleeves this month, as they always do in October. There's also a
Halloween Movies On TV Facebook page
that delivers the same information directly to your Facebook feed, which makes it a little easier to keep up with.
On that note, AMC's annual Fear Fest begins tonight, and is this year hosted by Kevin Smith. On the lineup for the week is a Friday The 13th marathon, with installments from the franchise (1 through Hell) airing all week long!
There's just something about watching horror movies on TV that I've always liked, even though I generally own the majority of the movies on DVD that channels like AMC tend to show. It's just nice to have the channel on in the background all night, as I go about my nightly business. A true creature comfort!
So be sure to bookmark that page and go become a fan of the site over on Facebook, so you don't miss a beat!
The other thing I wanted to mention was that my buddy Nathan Hamilton is doing a feature all month long over on his blog Son of Celluloid titled 'What Halloween Means To Me', where he's having various bloggers and horror personalities write up little posts about what Halloween ... well ... means to them. This past week was what he dubbed Horror Bloggers All Star Week, and yours truly rounded out the week with an entry last night, where I talked a bit about my love for Halloween, and what exactly it represents to me.
So head over to
Son of Celluloid
to find out what Halloween means to me, and be sure to check out some of the other entries while you're there!
That be all ... for now!