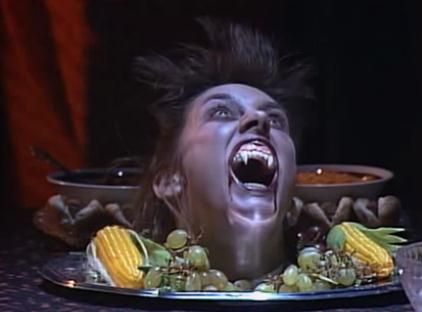 One of the earliest posts I made here on Freddy In Space, way way back in 2008, was about Roseanne's many Halloween specials, which are for me one of the absolute most important parts of my Halloween season. Quite frankly, it just isn't Halloween until I've watched ALL of the Roseanne Halloween specials, so I think it's time we begin that annual journey TONIGHT, TOGETHER!
Roseanne is one of my favorite TV shows of all time, and one of the many things that I always loved about the show was how much attention was given to Halloween every year. While most shows were only really concerned about Christmas, Roseanne was all about Halloween, a holiday that Roseanne Barr herself is quite clearly a fan of. Beginning in Season 2, Roseanne aired a Halloween themed episode every season through the ninth and final season, leaving behind eight total episodes devoted to the best holiday of the year.
The very first Halloween episode of the show aired on Halloween night in 1989. Titled 'BOO!', the episode gave us our first of many glimpses as to what Halloween was like in the Conner household. In addition to Dan and Roseanne trying to out-prank one another, Halloween style, the episode also had an incredibly memorable sequence wherein the Conner's turned their home into a haunted house, for the trick or treaters lucky enough to end up on their doorstep.
**FUN FACT : THE DIRECTOR OF THIS EPISODE, JOHN PASQUIN, WENT ON TO DIRECT ANOTHER HOLIDAY CLASSIC; 1994'S THE SANTA CLAUSE!**
BOO! is probably my favorite of all the Halloween specials, and the one that I have the fondest childhood memories of. Simply put, this episode pretty much encapsulates everything that Halloween means to me, in a short 20 minutes.
I now invite you to enjoy BOO! with me, the very first of the many Roseanne Halloween specials!!
**FUN FACT : LIGHTING DESIGNER DANIEL FLANNERY WAS NOMINATED FOR A PRIMETIME EMMY IN 1990, FOR HIS OUTSTANDING LIGHTING DIRECTION IN THIS EPISODE!**
You can get all eight
Roseanne
Halloween specials, on one DVD, for a mere $4.99,
over on Amazon
. If you're a fan of the show, there's no reason your collection should be without it!