If I told you I spent 8 bucks winning this silly little booklet on eBay recently, you'd probably wonder what the hell I was smoking at the time. But this isn't a silly little booklet, as it may appear, it's actually a pretty cool and not so easy to track down vintage piece of Halloween history. Allow me to explain!
Back around Halloween time in 1982, in Chicago, seven people died after taking Tylenol that was laced with cyanide, in what was fittingly dubbed 'The Chicago Tylenol Murders'. Though the incident had nothing whatsoever to do with Halloween, the fact that the deaths occurred so close to a holiday based around ingesting treats handed out by complete strangers naturally put parents on edge, many of whom decided to not let their kids out trick or treating that year. Of course, that had a negative impact on costume sales for the next couple years, which prompted the leading costume company of the time, Ben Cooper, to do a little damage control.
And so, the following year, Ben Cooper's chairman Robert Cooper teamed up with The Toy Manufacturers Of America and several other costume and toy makers, including Don Post Studios and Collegeville, to form the Halloween Celebration Committee, designed to show parents that Halloween could once again be a fun and totally safe holiday for their children. That year, they put together and sent out the booklet 13 Great Ways To Celebrate Halloween, guidelines for both parents and children to follow in order to ensure that the holiday was as safe as possible. And, ya know, get people buying costumes again.
Did the booklet achieve its intended purpose? Well, a few years later, Halloween costume and makeup sales began to once again rise, so I guess you could say it did. Or maybe parents just forgot about the whole Chicago tragedy as time went on, which is the more likely explanation. Still though, an admirable effort on Ben Cooper's part, even if the Halloween Celebration Committee was ultimately a thinly veiled way of putting the company back in the green.
If I had a way of scanning each of the pages of the book and making them available for you to digitally flip through, I of course would, but alas, I have no idea how people go about such things. Some form of wizardry, I'd imagine. So instead, I'll just briefly summarize the contents. Boring, I know.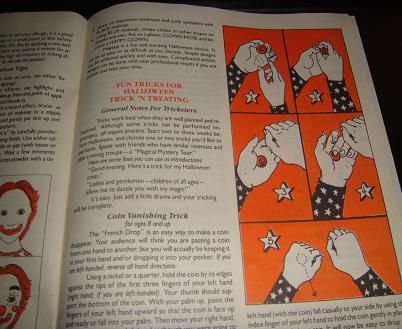 The booklet is just over 30 pages, and begins with some information about the history of Halloween, along with some general health and safety tips, as it pertains to things like applying face makeup and eating candy gathered on the big night. After that stuff comes the 13 tips themselves, which essentially outline how to safely trick or treat (or as they say, 'Trick 'n Treat') and celebrate the day. The booklet ends with some Halloween magic 'tricks' (get it?!), explanations of some of the holiday's iconic symbols, pumpkin carving tips, and even a handful of festive recipes, like pumpkin soup and popcorn balls. Basically, the gist of the booklet is to use some common sense, have fun on Halloween, and oh yea, buy Ben Cooper costumes!!

There's also a weird ass picture in there of a giant bent over human/cat hybrid, for what that's worth. Oddly arousing, no?
It's very possible that after this explanation, you may still be asking yourself why the hell I bought this, which I can't say I'd blame you for wondering. But hey, like I said, I find this to be a cool little piece of Halloween history, and I had to have it. So there. I'll be the one laughing last, when I'm safely celebrating Halloween and you're munching on razor blade stuffed Milky Ways and getting hit by cars because your costume doesn't have safety reflectors on it. So HA!