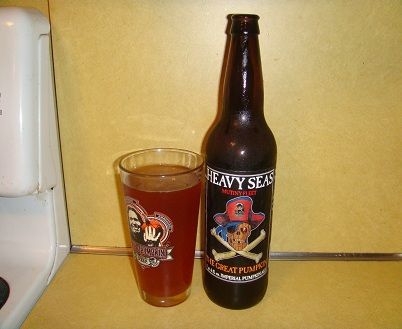 With Halloween approaching so damn fast, I figure I better start banging out these pumpkin beer reviews, and quick. Getting drunk and writing reviews of beer is a hard job, but somebody's gotta do it!
Tonight we've got ourselves a beer that calls itself 'The Great Pumpkin', courtesy of a company by the name of
Heavy Seas
, who release their beers under three distinctly different pirate themed banners; the Clipper Fleet, the Pyrate Fleet & the Mutiny Fleet, the latter of which The Great Pumpkin resides in.
'Great Pumpkin draws much of its flavor from a mixture of spices: nutmeg, cinnamon, clove, and allspice. Dark brown sugar adds color and some dryness to the spicy, malt-forward ale. The addition of the spices and pumpkin in the kettle makes this brew opaque. A warming pumpkin aroma and a slightly sweet taste characterize our special fall seasonal.
'
Much like my favorite pumpkin beer in the patch, Pumking, The Great Pumpkin is an Imperial beer, again essentially meaning that it's robust on both the flavor and alcohol fronts. At a whopping 8.5% alcohol by volume, The Great Pumpkin is packed with just about the same amount of alcohol as Pumking (8.6%), AKA enough that a single 6 fluid ounce bottle of the stuff will get ya feeling real good. And totally in the mood to gnaw on turkey legs and carve up some pumpkins. Well, at least those are the desires I'm experiencing right about now. Perhaps that's just me.
Very pleased to report that The Great Pumpkin is also comparable to Pumking on the taste front, which is something that I very rarely say about any given pumpkin beer. In fact, I'm not sure I've ever spoken or typed those words before. This exceptional offering from Heavy Seas has that same intoxicating smell and creamy & smooth pumpkin pie flavoring that the Pumking has, and at a few dollars less per bottle, it's a worthy second tier go to for top quality pumpkin ale. If you can't find Pumking, or you're looking to spend a few bucks less, I can't think of any beer more fitting for ya than this one.
Also gotta give The Great Pumpkin props for the cool looking bottle design, and also, of course, for the fact that it's named after a Halloween children's cartoon character. Gotta love it.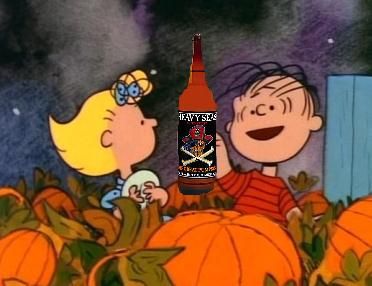 The Great Pumpkin is a damn fine beer, Charlie Brown. I'd recommend it highly. In fact, I do recommend it highly. I don't know why I said I would. Because I do. Definitively.
Again like Pumking, there is also a special edition of The Great Pumpkin, titled Great'ER Pumpkin, which is aged for three weeks in bourbon barrels (and equipped with 9% ABV). Haven't had that one yet, but I will definitely be seeking it out, now that I know how tasty this stuff is!