I've ranted and raved several times here on Freddy In Space over the years about Southern Tier's Imperial*
Pumking
, my absolute hands down favorite pumpkin beer that I have ever tried ... and I've tried a lot of them. I've spent a good portion of time over the last couple years spreading the gospel of Pumking to anyone who will listen, and I truly believe that it is in fact the king of pumpkin beers. Quite frankly, I'd be shocked if I ever found one that could come even close to dethroning it. EVER.
So as you can imagine, I was incredibly excited when a couple weeks back, a friend of mine informed me that Pumking was available this year in a special edition oak aged variety (in layman's terms, pieces of oak were fermented in the tank with the beer, thus enhancing the flavor profile), exclusively on tap. After doing some research I learned that this edition was actually first seen last December, after Southern Tier fans demanded the beer return post-Halloween season. For now you can only get it on tap at select bars and beer distributors, though Southern Tier seems to have plans to eventually release it in individual bottles, like their standard Pumking offering. They were supposed to get around to that this year, but I don't know what happened there. That said, I like the idea of this one being exclusively on tap, and I wouldn't mind it staying that way. Ya just can't beat a good beer on tap, and the fact that this is the first time Pumking has ever been available on tap is a large part of what makes it so exciting.
Needless to say, Jen and I immediately hunted down a distributor near us that had this super charged version of the best pumpkin beer on Earth, and last weekend picked up two big ass growlers on the way to the
Rise of the Jack O'Lanterns
. Not that Pumking needed to or even could get any better, but I do believe it just did!
It's hard to really compare the two without having both of them to sip on right about now, which I don't, but from what I remember of the many bottles of Pumking I've consumed in my lifetime, this new version tastes even better, smoother and with ample amounts of that vanilla flavoring that oak aging infuses into beer. Oak Aged Pumking has the same amount of alcohol as the regular version (though it tastes a bit stronger), with an ABV of 8.60%, and a glass of it is a meal unto itself, the kind of beer you sip like liquid dessert rather than pound back to get drunk. That said, it'll get ya real drunk real quick no matter how ya drink it, this much I can promise you.
I've always described Pumking as tasting like a pumpkin pie milkshake, and the enhanced vanilla flavoring in this one only adds to that overall taste. All the smells and tastes of pumpkin pie are there, from the spices and the pumpkin (duh!), right down to the crust and the whipped cream. The fact that this version is on tap only serves to make it even better!

SEEK THIS STUFF OUT! If you can't find it on tap near you, then grab a bottle of the traditional Pumking, which shouldn't be hard to find, no matter where you're located.

Just a little tip here for my fellow pumpkin beer drinkers, that I picked up from a restaurant/brewery called John Harvard's, who introduced me to my very first pumpkin beer many years back. They put a lining of cinnamon sugar on the rim of every glass of pumpkin beer they serve, which is something I do pretty much every time I drink a pumpkin beer (except, of course, when I taste a new one for the first time, for review purposes).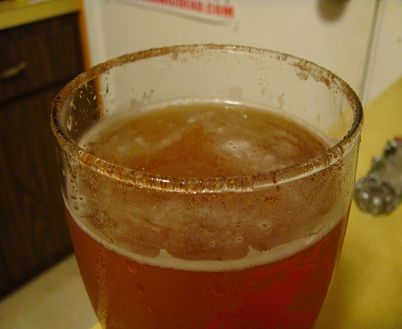 All you've gotta do is pour out a little cinnamon sugar onto a plate, wet the rim of a glass in the kitchen sink, and then spin the wet rimmed glass around in the cinnamon sugar, coating the entire outer rim. I also like to throw a little of that sugar into the beer itself, which adds some more flavoring to the whole thing. If your glass of pumpkin beer doesn't look something like the one you see pictured above, then you simply aren't doing it right!

*An Imperial beer is essentially a premium beer that is very strong on both the flavor and alcohol fronts. In other words, if you see the words 'Imperial' printed on a beer label, you should probably buy it!