The Halloween season is always a good time for older horror films finally getting Blu-ray releases, and last week Pet Sematary jumped on the Blu bandwagon, with the film hitting 1080p for the first time, courtesy of Paramount. Just wanted to offer up a few thoughts on the disc, being that I checked it out tonight!
First off, Pet Sematary is one of my favorite horror movies of all time, so obviously this would've been a no brainer purchase for me right off the bat, though I must fortunately report that Paramount sent it to me for free a couple weeks back (oh, the joys of being a blogger!). I could make up a story but if I'm being honest, I don't quite remember the first time I saw the movie, but I do know that I must've seen it at some point in my childhood, because it's a movie that I've always held near and dear to my heart. It's a truly horrifying horror film, one that manages to disturb and unnerve me more than most. So yea. Never read the book. Love the movie. Piss my pants every time I lay eyes on the emaciated Zelda. That about covers that. Speaking of covers...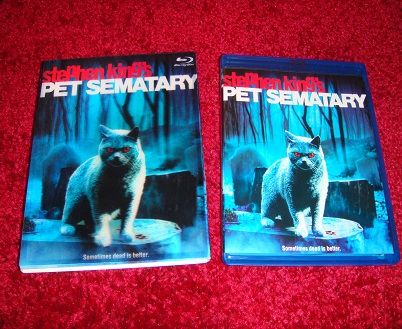 I'm a total sucker for snazzy slip covers, so I must mention before we talk picture quality that this one has a pretty awesome lenticular slipcover over top of it, which makes it look like Church the zombie cat is following your eyes, wherever you look on the cover. Did I ever mention that my cat Mothman is a dead ringer for Church? Because he is. And he's the cutest goddamn thing on this planet. I now interrupt this review to share his sinister cuteness with you...
Aww. See? Little dude loves his Jello shots.
OK, back to business.

The transfer here from Paramount looks pretty damn good, crisp and clear with all the film grain kept in tact. The film looks particularly good during daytime scenes, but the transfer all around is impressive and worth the upgrade. There are a lot of beautiful Maine filming locations on display and some terrific shots throughout Pet Sematary, and those moments really pop with this transfer. Looks about as good as an 80's horror flick should look in high def, without looking unnatural or washed out, so you can't ask for much else. I approve!
On the special features front, this release is packaged with the same features that were on the
Special Collector's Edition DVD
, from back in 2006. I'm actually currently watching the film with the soothing sounds of director Mary Lambert's voice over it, and she provides a lot of interesting and intelligent insight in her commentary track, a lot of which has made me look at certain aspects of the film in ways that I never did before. She's also got lots of little trivia nuggets to share, about the making of the movie and working with Stephen King. Did you know that Fred Gwynne's hair was actually black at the time the movie was filmed, and had to be dyed grey? Because I sure didn't!
The other features ported over from the DVD are three mini featurettes that run about a half hour total, titled
Stephen King Territory
,
The Characters
&
Filming The Horror
. What makes this Blu-ray release a welcome addition to my collection is that I previously only owned the
original DVD release
of the film, which was totally bare bones on the special features front. So though there are no new features included on here (boo), they're all new to me (yay)!
Gotta go ahead and recommend you upgrade on this one, especially if you never upgraded your DVD copy back in 2006. Why? Because sometimes, Blu is better. In this case, it definitely is!
Now let's get the awesomely underrated Pet Sematary Two onto Blu-ray, shall we?!