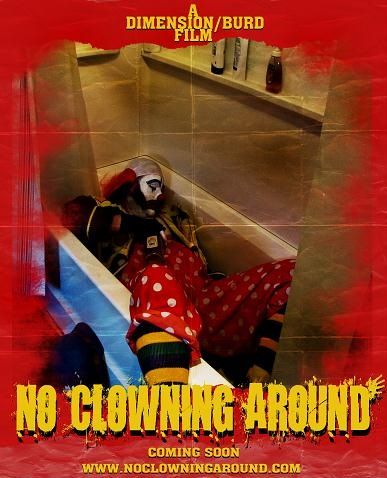 This past weekend, at Maryland's Monster Mania convention, my buddy Rob Dimension premiered the trailer for his upcoming short film, No Clowning Around, about a birthday clown called Mumbles who has seen better days. In fact, Rob even spent most of his time at the show dressed as Mumbles, taking pictures with both fans and celebrities alike. I've gotten to know Rob a bit through the convention circuit over the years, and thanks to shared interests in wrestling and of course horror, as well as the fact that we've got a bunch of mutual friends, we've become friendly ourselves, always stopping to chat whenever we see each other at shows. He's just an all around cool dude, and he didn't even have to pay me all that much to get me to say that.
Dimension has made a name for himself as a wrestling manager and even a horror host over the years, and he recently decided to try a crack at making his own horror movies, which is of course the dream most hardcore horror fans have in the back of their minds. Well Rob's actually going ahead and doing it, and his debut short, which he created and stars in, is going to be unleashed upon the world this December. For now, we've got a two and a half minute long trailer to tide us over, which Rob wanted to premiere exclusively right here on Freddy In Space. As I mentioned above, the trailer was shown to the attendants of Monster Mania over the weekend, but this right here is the online debut of the footage.
Along with the trailer, Rob wrote up for me a nice little piece on the genesis of the project, which you can read after you go ahead and watch it. So take it away, Mumbles! Err ... I mean ... Rob.
"…you can give in to depression or fight back"

Those are the words that I feel best can describe my battle with depression. About six months ago, I looked in the mirror and decided to make a change. My life was in a downward spiral and from that experience came; "No Clowning Around". We can never win the battle against depression but, I believe, we can look into its eyes and face it, head on.

"No Clowning Around" is a Horror short film based on one man's fall from grace. Ed, who once was beloved by his hometown as Mumbles the Clown, is now a party clown who battles depression and addiction. His last shed of light in his life is Trixie, who has struggles of her own. Being pushed from all sides, who and what will stop the endless spiral of sadness?

Some might know me from Late Night at the Horror Hotel, Pro Wrestling, Monster-Mania Radio or the Extreme Odd Couple Podcast, but I really feel I developed the creative bug from reviewing movies. I've always loved the horror genre but I felt I wanted to be a bigger part of it. When you review movies, you expose other's vulnerability but now, I'm the vulnerable one.

The last year I've learned that exposing my life can have a good affect on others. I had a rough battle with depression about a year and a half ago. Maybe it was my mid-life crisis, but home life was bad, I had no direction and from that, came this film project.

The film is personal for me, even though it's extreme in relations, it still has plenty of metaphors to my own life. The process only took me about two days to write and once on paper; I knew this was the movie I wanted to make.

I wrote about a 15 page treatment, kind of like a sketched out script, but just the basics. The first person I showed was my Wife, Kim. Kim and I have been together for over 21 years and it was important for me to make her the Trixie character. Once you see the film and can relate the two, you will see why. She rehearsed countless days and worked very hard, and it paid off.

The next person I wanted involved was Steve Corino. Corino is easily my best friend, from offering me a place to stay, to always being there when times were tough. We both helped each other during rough times..you know how misery needs company sometimes? Well, he's my misery partner. The role of Lenny was his as soon as it was written. He took it extremely serious and made sure he was not the typical "wrestler in a movie" role. He's believable.

Matthew Burd was the next choice, since his work on Late Night at the Horror Hotel; he proved his artistic vision to me on that project. I sent him the story and he wrote the screenplay and I could see the movie from his expressive script, I loved it immediately. Matt has included myself in several of his previous short films including Cuts Right Over that is making the rounds on some film festivals now. Matt and I worked great together and we each had ideas and it made for a smoother shoot. Very happy he wanted to be a part of it.

Sal Valente was a later addition to the project. I sent him the script and he loved it. Some will know Sal from his work as Pigamortis from our show. We have good chemistry, he's funny and I knew he dug the project so it made perfect sense to have him aboard.

We are aiming for a December release. It will be available on DVD, plus we will have a Limited to 50 VHS release. I will be focusing on Film Festivals and trying to have as many eyes on this project as possible. Depending on how well this is received, will lay out the future. Ideas are about a feature or a possible sequel short for "Mumbles". I think that the character has enough oddity and is relatable to many that he has some likeability and a future.

I really want to thank those that have helped donate to make this possible. You truly made a boyhood dream come to reality. I also want to thank those that helped, our crew, those who offered advice and those who listened to me complain. It was a long four days, being on set for sixty hours, but I know it will be worth it. I'm proud of this.
_______________________________________
You can learn more about Rob over on
his blog
, and more about this project on the official
No Clowning Around blog
, where you can even snatch up
your own Mumbles The Clown fan club card, as well as various other pieces of swag tied to the film. Also be sure to give a big ole like to the
No Clowning Around Facebook page
, if ya dug the trailer!
And remember kids, Mumbles is watching ...