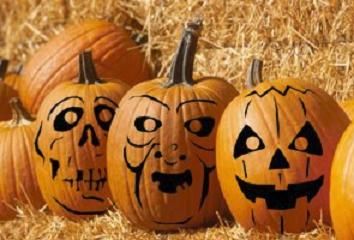 Generally, when artist Frank Browning and I work together on a post, it's a totally collaborative effort. I come up with an idea, he executes it, that sorta thing. But in the case of this here post tonight, I've gotta give 100% of the credit to Frank. Earlier today, Frank pitched me on the idea of doing some Freddy In Space Exclusive pumpkin carving patterns, to which I said something to the effect of, "Oooh, let's do the Silver Shamrock masks!". To which Frank replied, "Check your e-mail. Already did them and sent them to you".
See why I love this guy?
So here then are the first ever Freddy In Space Exclusive pumpkin carving patterns, courtesy of Frank Browning. All you've gotta do is click the images below, which will open up the PDF files for the patterns. From there, simply print out the pattern(s) you want to carve, affix them to your pumpkins, make scoring marks around the black areas of the images, and get to carving. Voila, you've got yourself some snazzy Silver Shamrock pumpkins, with the iconic pumpkin, witch and skull death masks carved into them ... carve just one, or carve 'em all!
**DISCLAIMER : NEITHER FREDDY IN SPACE OR FRANK BROWNING ARE LIABLE FOR ANY SNAKES OR OTHER DISGUSTING CREATURES THAT CRAWL OUT OF YOUR SILVER SHAMROCK PUMPKINS. YOU HAVE BEEN WARNED**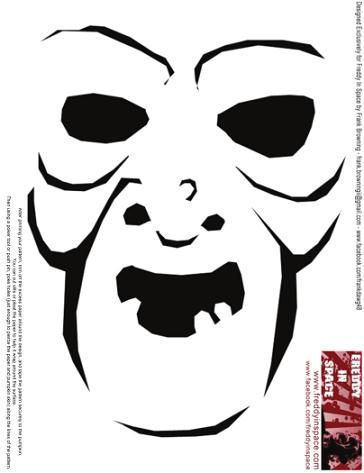 If you do get around to using these patterns and carving yourself up some Silver Shamrock pumpkins, please do send me images of your handiwork, so I can post them on the blog. You can e-mail pictures to me at MORTIS45@AOL.COM, with the subject 'H3 Pumpkins'!