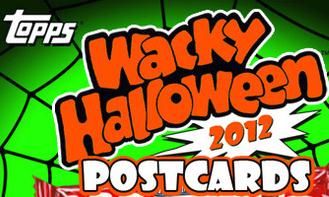 I've always had an incredible fondness for Topps' Wacky Packages, trading card stickers with spoof artwork of popular brand name products. In the past few years, after their return in 2004, the Wacky Packages line has expanded beyond just cards, with the artwork being used in some interesting and new ways (they've got packs of Wacky Packages mini erasers and even packs of full size Wacky Packages posters these days!). This year, as they've done the past couple years, Topps has come up with a whole line of new Halloween goodies to add to the line, which we're here today to take a look at!
First up, they've got two issues of a Wacky Packages Halloween comic book, with the first issue selling for $10 and the more limited edition second issue going for $11.95. Issue #1, the first EVER Wacky Packages comic book, comprised of 16 black and white pages, is limited to 650 artist signed and numbered copies, and features a back cover that tears off and turns into a postcard. Issue #2 is limited to just 300 signed/numbered copies, with 8 black and white pages.
This is the Halloween postcards 'Tricky Treat Edition', six full color postcards with a Halloween theme to them. Packaged inside a commemorative Halloween wrapper, these packs are exclusive to the Topps website, with a price tag of $11.95. The back of each card has a real postcard back, allowing them to be shipped out and used as, well, actual postcards. Thus the name, postcards!

**FUN FACT : IT WAS AN UNRELEASED WACKY PACKAGES CARD DESIGN THAT, IN 1985, SPAWNED THE GARBAGE PAIL KIDS!**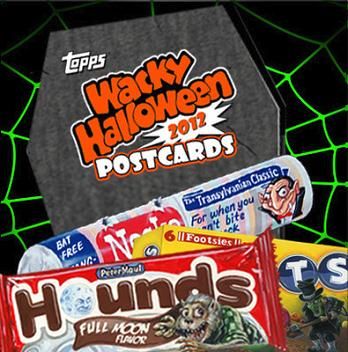 There was a more limited edition postcard set, housed inside a coffin shaped folder and limited to 666 pieces, but that recently sold out. On the bright side, at lease you won't be tempted to drop $50 on it!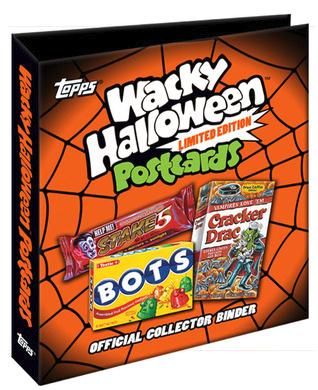 And finally, we've got the Halloween edition collector's binder, a $19.95 offering that allows you to store all your Wacky Packages Halloween postcards in one neat little place. Why? Because the Halloween cards are special, and they deserve to be treated as such!