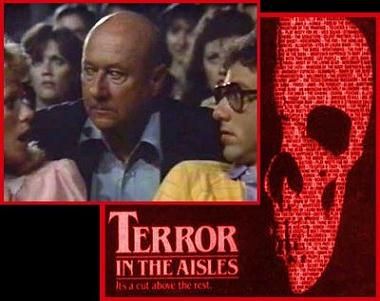 Back in 1984, Universal Pictures released a documentary about horror films called Terror In The Aisles, which was directed by the late Andrew J. Kuehn, a man who made a name for himself in Hollywood by cutting together highly praised and revolutionary trailers for films like Jaws, E.T. and Aliens. Running around an hour and a half long, the documentary was hosted by Donald Pleasence and Nancy Allen, and was mostly comprised of various clips from nearly a hundred different horror films. Amongst other things, the clip compilation documentary explored what it is about horror films that is so appealing, and so effective in shattering our nerves, and featured several glorious moments of Donald Pleasence being super creepy in a crowded movie theater.
In October of that year,
Terror In The Aisles
was released in theaters, where it grossed around 10 million bucks.
It hit VHS
the following year and remained unreleased on subsequent formats until last year, when Universal included it, in full, as a special feature on their 30th Anniversary
Blu-ray release
of
Halloween 2
. The fact that the documentary was in 1080p only served to make that release even more of a must buy.
This little vintage documentary is a true must see treat for horror fans, so enjoy the documentary in full below. When you click play, you will be directed over to YouTube to watch it, since for some reason it's not allowed to be watched outside of there. So don't fret when you see that the video won't play on here!