First off, for all Walking Dead fans who are DISH customers ... I'm sure you've already heard the good news, but DISH is now once again carrying AMC on their lineup, as of last night. Whatever mumbo jumbo legal issue that was going on that has kept AMC off their lineup for a while now has been settled, so hallelujah for that!!
Also want to thank everyone who took part in last week's episode discussion. Had some good back and forth banter about the episode, and, as I promised, I've chosen one person who commented on that post to win
Funko's Rick Grimes POP! vinyl toy
. That winner is Matt DeLuna, so congratulations Matt! Will likely have other giveaways within these weekly discussions in the future, whenever I've got a
Walking Dead
themed prize at my disposal!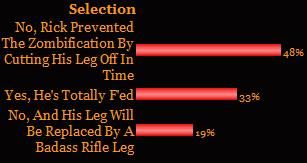 Here are the poll results from last week, where I asked if you guys thought Hershel was going to turn into a zombie, after the vicious bite to the leg he sustained at the end of episode 1. The general consensus was that Hershel would remain human, which according to last night's episode, may just be how things work out. He's not totally in the clear yet, not by a long shot, but it's looking like he may pull through. Then again, a one legged person doesn't have the best odds in the zombie apocalypse, unless that person's name is Cherry Darling and she's got a gun for a leg, so let's not count our eggs before they hatch!
Last thing I wanted to mention was the new

Walking Dead

official magazine, the first issue of which hits newsstands tomorrow. I was sent a copy to check out last week, and I'm definitely impressed with what I've read so far (which is a good portion of it). There's so much going on in the

Walking Dead

universe these days, and the comics and TV show are just the tip of the iceberg. From video games to action figures, books to apparel,

Walking Dead : The Official Magazine

covers it all, thereby establishing itself as the be-all end-all place to go for absolutely everything that falls under the banner of

The Walking Dead

. Sort of like a jam packed with goodies

Walking Dead

blog, only in print form. Pretty cool.




Issue #1 features interviews with comic creator Robert Kirkman, actress Danai Gurira (Michonne), producer Glen Mazzara and Talking Dead host Chris Hardwick, and is absolutely full of nearly 100 pages of insider info, behind the scenes photos and articles about both the TV show and the comic series. Best of all, spoiler warnings precede any mention of plot lines from the comics that may spoil future surprises on the show, which was cool to see being that I haven't yet delved into the comics (yea yea, I'm a terrible fanboy).

**DID YOU KNOW? THE MICHONNE THAT APPEARED AT THE END OF SEASON TWO WAS NOT PLAYED BY DANAI GURIRA. SINCE THE PART HADN'T ACTUALLY BEEN CAST YET, THE ROLE WAS PLAYED FOR THAT SHOT BY AN UNNAMED ACTRESS!**




If you're into all things

Walking Dead

, this magazine is needless to say something you should probably subscribe to. A six issue subscription is $47.99, allowing you to get each issue delivered to your door before it pops up in stores, and the subscription also comes with a free exclusive t-shirt, which you can't get anywhere else. Subscribe today over at

Titan Magazines

, so ya don't miss a beat!


And now, let's delve into 'Sick', episode two of season three!




Will Hershel survive his zombie bite and subsequent leg removal? And what effect will the stowaway prisoners have on Rick and the group? Those are the questions we were left hanging on at the end of the last episode, and the questions that the majority of episode two's run time was devoted to answering.




After getting Hershel stabilized, Rick and the gang are forced to contend with the five prisoners, who we find out have been stuck inside a single room for the past 10 months. The group of five is led by a man named Tomas, who right off the bat we and Rick both realize is going to be a problem. Though the two groups start off at odds, they appear to be getting along, to an extent, when Rick and Daryl teach the thugs how to properly destroy a zombie, in what was a humorous scene that really showed the difference between experienced zombie killers and those who have never actually had to fight one off.

**QUOTE OF THE NIGHT : "AINT NO WAY THIS ROBIN HOOD CAT IS RESPONSIBLE FOR KILLING ALL THESE FREAKS"- TOMAS, IN REFERENCE TO DARYL, UPON SEEING ALL THE DEAD WALKERS OUTSIDE THE PRISON. OOOOH, YOU HAVE NO IDEA, TOMAS!!**

The tension between the two groups ignites again when one of the prisoners, Big Tiny, is scratched by a hand-less walker. While they're deciding what to do about the situation, Tomas suddenly erupts in a violent rage, and bashes Big Tiny's head in, not stopping until he's covered in his prison mate's blood, from head to toe. Literally.

Things reach their boiling point when Tomas intentionally puts Rick's life at risk, by throwing a zombie on top of him during a walkers vs humans battle. Knowing he's got no choice if he wants to protect himself and his group, Rick channels his inner Shane and delivers a Voorhees style machete blow to Tomas' cranium, killing him instantly. This causes one of the other prisoners to flee the scene, soon ending up outside of the prison, surrounded by zombies. Rick has the option of either locking the prisoner out of the prison or saving his life, and he opts to let the zombies do the dirty work for him, and locks the prisoner out.




Back inside the prison, Rick spares the two remaining prisoners, and gives them their own section of the building to live in, away from him and his group.

Meanwhile, while all this was going on, Hershel showed signs of life, thanks in large part to Carl, who found some much needed medical supplies on a mission he decided to embark on alone. Lori didn't take kindly to this and, shades of when she blew up on Rick for killing Shane, yelled at Carl for his good deed. Carl ran off, and was not seen again for the rest of the episode. I salute you Carl, even if mommy doesn't.




**FAVORITE MOMENT OF THE EPISODE? MAGGIE HAS A TALK WITH HER UNCONSCIOUS DAD, AND ESSENTIALLY GIVES HIM PERMISSION TO LET GO AND CROSS OVER TO THE OTHER SIDE. SQUIRTED OUT A FEW TEARS ON THAT ONE, I MUST SAY. BUT GOOD GOD, DID ANYONE CATCH THE AD FOR TALKING DEAD THAT CAME ON DIRECTLY AFTER THAT SCENE, WHERE CHRIS HARDWICK TOLD US TO HASHTAG 'ONELEGGEDHERSHEL' ON TWITTER, AND REMARKED ABOUT HOW GROSS HERSHEL'S LEG LOOKED? TALK ABOUT POOR TIMING!**




Towards the end of the episode, Carol kills a female walker and begins to experiment on it, practicing how to perform a C-Section so that she can help deliver Lori's baby, when the time comes (Carl was born via C-Section, so Carol figures the new baby may have to be born the same way). From behind a tree, someone is watching Carol hack into the zombie's stomach, though we don't see who it is. Perhaps The Governor? Or Merle?

**C-SECTION FUN FACT! THE FIRST SUCCESSFUL CAESAREAN SECTION PERFORMED IN THE UNITED STATES WAS IN 1794, IN VIRGINIA. SUCCESSFUL MEANING BOTH THE BABY AND THE MOTHER SURVIVED. NOWADAYS, 1 IN 3 BABIES IS BORN VIA C-SECTION, AND THE SURVIVAL RATES FOR BOTH PARTIES ARE AT AN ALL TIME HIGH. YOU CAN DO IT, CAROL!**

In the final moments of the episode, Lori opens up to Rick, in an attempt to have a serious conversation about their relationship. Rick brushes the attempt off, and coldly tells Lori she did a good job helping to save Hershel, neglecting to talk about their relationship. It appears that the two are on a one way trip to a post apocalyptic divorce.




Speaking of which, here's the poll question for the week!





One of the most interesting aspects of last night's episode was Rick's evolution, which I think even he realizes is headed down a similar path that his best friend Shane went down. Now what's most interesting about that is, as my wife pointed out when we discussed this last night, that Rick was very compassionate towards Hershel and his family throughout the episode, but yet he doesn't seem to have any emotional connection to his pregnant wife anymore, when she now needs him most. My personal vote on the poll was for the third option, and I feel like Rick is avoiding Lori because he knows that devoting his time to her, and to their soon to be born child, can only put his own life at risk, as well as the group as a whole. He's even started to treat Carl as just another adult member of the group, rather than his young son, which is further evidence of this fact. That said, he does seem to all around be losing the humanity and the heart he once had, and it's going to be very interesting to see how he changes throughout the season. This aint the Rick we used to know, that's for damn sure.




Now the main topic I want to discuss about last night's episode is one that has come up a few times throughout the series, most notably last season, when Rick ran into those two dudes at the bar. What I want to ask you this week is this ...




If you're Rick, what do you do when you come upon a group of people, like the prisoners, who could potentially pose a threat to the safety of your own group?


If there's one thing Shane did right, though he didn't always go about it in the best way possible, was that he always put the safety of the group first and foremost. If anyone fucks with them, or poses any kind of threat whatsoever to them, his vote was to kill them ... immediately. And when it comes to these situations where Rick and his group encounter other survivors, I'm very much in the Shane camp, a camp that Rick himself seems to be finding himself more and more in.

The world these people are living in is not the world we all live in. It's pretty much every man for himself at this point, and the murder of another human being is no longer really even a crime. There's a quote from the comic that Rick says to another character, which I only know about because I read it in the magazine I mentioned above, and which sums up how I feel...

"We do what we have to do. It doesn't matter if we can live with ourselves ... as long as we live"

What does that mean? That means protecting yourself and your friends and family by any means necessary, which at some points is going to mean doing things you really don't want to do, and certainly wouldn't do in everyday ordinary life.

With the prisoner situation, it was clear that at least Tomas was a threat right off the bat, and if I were Rick, I would've dispatched him right then and there. If not immediately, then certainly upon seeing how Tomas dealt with the Big Tiny situation, heartlessly beating him to death when they could've provided him a much less painful, and comforting, farewell. The fact that Tomas treated one of his own group members that way, who he had just spent nearly a year with, showed just how evil of a dude he was, and at that point Rick definitely should've done away with him. Shane would've never let things get to the point where Tomas nearly killed him, and Rick shouldn't have either. I don't think he'll ever make that mistake again.




As for the other prisoners, who seemed like somewhat decent guys, that's more of a tough call. On one hand, you can't just kill every human you come into contact with. But on the other, you can't take the chance of yourself being killed. So what do you do? Was Rick justified in locking the one prisoner out? Was he foolish to let the other two men live? I'd love to hear what you have to say about all that, so please do leave me comments below and let me know how ya feel!




While you ponder that question, here's a sneak peek of next week's episode!