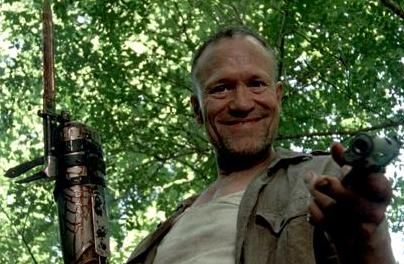 Before we crack into this past Sunday's episode, let's check the poll results from last week's discussion!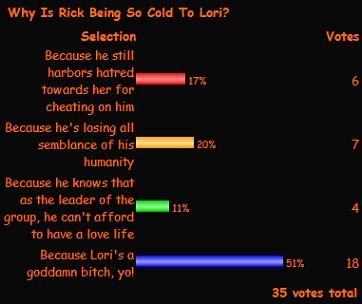 Haha, can't say I'm surprised by these results. The general consensus seems to be that Lori is a total bitch and should probably die real soon, which I can't help but somewhat agree with. While I totally see where she's coming from in the way she reacts to certain situations, she oftentimes goes about things in a way that leaves you scratching your head. One minute she's telling Rick to kill Shane, the next she's getting pissed at Rick for ... killing Shane. It's no wonder Rick's seemingly totally fed up with her at this point. At the same time though, she's a pregnant woman in the zombie apocalypse, with a husband who doesn't exactly like her and a young son who has to shoot zombies in the head, so I guess ya can't blame her for being a little crazy!
This past Sunday's episode was a total departure from the usual format of the show, which typically follows around Rick and his group of fellow survivors. While Episode 2 was completely devoid of Michonne and Andrea, 'Walk With Me' focused entirely on them and their encounters with both new and returning characters, including Merle(!), The Governor(!) and the town of Woodbury as a whole, which we find out is occupied by over 70 new characters. Needless to say, I'm expecting a big time body count on the human front this season!
The episode opened with an army helicopter crashing in the woods, which Andrea, Michonne and her two zombie pets come upon. At the sight of the crash, both they and we as the audience get our first glimpse at the infamous Governor, who will be the main villain of this season (even if he may not seem like one at first!).
After their hiding spot in the woods is almost given up by Michonne's growling pets, Michonne quickly disposes of her friends by cutting their heads clean off, showing that she'll do whatever she's gotta do to stay alive. Nevertheless, they're found anyway, by The Governor's right hand man, who just so happens to have no right hand; the returning Merle Dixon, brother of Daryl. Rooker!
**ZOMBIE KILL OF THE NIGHT : A WALKER APPROACHES MERLE FROM BEHIND, AND HE NONCHALANTLY DISPOSES OF IT BY STICKING HIS ROBOT KNIFE HAND INTO ITS UNDEAD THROAT, WITHOUT EVEN LOOKING**
Merle escorts the two to Woodbury, a town run by The Governor that eerily appears to be carrying out life as if there were no zombie apocalypse. Kids go to school, and the community carries on normal everyday life, protected by armed guards and high walls. Though at first they're treated like prisoners, Michonne and Andrea are soon embraced by The Governor and his town, in what quickly appears to be a too good to be true situation.

The Governor seems like a swell enough dude, until the end of the episode, when we see him cold bloodedly orchestrate the slaughter of a group of army soldiers and then, in the final moments, calmly take a seat in the back room of his home, where we see he's got a wall of aquarium tanks with human heads inside them, taking Michonne's zombie pet idea to a whole nother level. He watches them with a drink in his hand, as you and I would watch an episode of our favorite TV show (Walking Dead!), driving home the too good to be true feeling.
**FUN FACT: WOODBURY IS A REAL TOWN IN GEORGIA, WITH A POPULATION OF JUST OVER 1,000!**
Not that there's even been an episode of the show that I didn't like, but I particularly enjoyed this week's episode, and the way that the town of Woodbury, and its ruthless Governor, were introduced to us. It may seem crazy to take the attention off of Rick and his group, but I felt it was the absolute perfect way to usher us into Woodbury, before the inevitable meet and greet between the two groups. And holy shit, between the introduction of The Governor and the re-introduction of a robot armed Merle, there was a whole lot to keep the entertainment factor high, even though the focus was mostly on characters we have never met before. Not an easy feat!

And I absolutely love the idea of the Herbest West-ian doctor who is experimenting on and learning from the zombies, which reminded me a whole lot of Day Of The Dead (awesome practical effects and all!). Excited to see where they go with that, and ya can't help but feel like The Governor has got a damn good chance of being the one to restore humanity to what it once was, even if ya know he's got some seriously evil shit up his sleeve. Already cannot wait to see what happens once him and Rick collide!
**BADASS MOMENT OF THE NIGHT : THE GOVERNOR WALKS TOWARDS THE CAMERA IN SLOW MOTION, AS HAILS OF BULLETS ENTER AND LEAVE THE BODIES OF A HANDFUL OF SOLDIERS. THAT MOFO AINT MESSIN' AROUND!**
Speaking of that inevitable encounter between the two groups, I think the most interesting character meet up is going to be between Daryl and Merle, neither of whom knows that the other is alive at this point. Will Daryl and Merle join forces and fend for themselves, together? Will Daryl leave Rick's group and join up with The Governor and his brother? Will Merle leave The Governor's side and once again team up with Rick and his brother? Or is their bond forever broken, now that they've both changed so much since they last saw each other? Shall be interesting to see what becomes of the Dixon brothers, to say the least!!

So let's discuss the episode in the comments section below. Feel free to discuss anything you've got on your mind about it. I'll kick things off with this ...

What the hell do you make of The Governor's zombie head aquarium?!?! Would love to hear what ya think about that!
In the meantime, here's a sneak peek of next week's episode, 'Killer Within'.