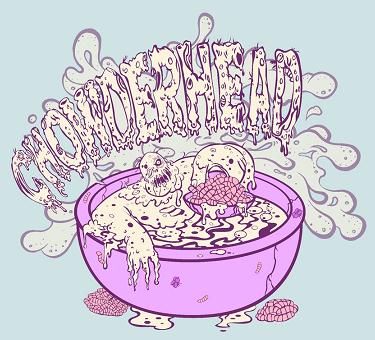 I've recently struck up a friendship with a fine gent by the name of Neil Whitley, the man behind a fairly new on the scene clothing company called
HATEmale
. And when I strike up friendships with people who run kickass horror themed companies, you folks benefit from it. That's just the way things work 'round here on Freddy In Space. But first, a little backstory on HATEmale!
Founded in 2011, and hailing from the New England state of Massachusetts, HATEmale Clothing is, as Neil describes it, "the twisted sister to mainstream clothing". What does that mean? Well, it means that the wares that come stamped with HATEmale's name are generally of the 'wickedly deranged' variety, oftentimes venturing into horror territory. Currently available from the company are shirts inspired by Friday The 13th, Little Shop Of Horrors & Goonies, which gives you a little idea of what Neil's going for. In other words, if you dig Jason, killer plants and friendly mutant monsters, then you're gonna dig HATEmale!
HATEmale's latest creation, launching on October 30th, is 'Chowderhead', the official horror icon of HATEmale, who is set to return from the depths of his clam chowder bowl each and every October 30th, with new t-shirts depicting his latest adventures. Legend has it that a young boy was pushed into a vat of The Bubbly Clam's molten hot clam chowder one day, soon after giving rise to Chowderhead, a monster that lurks inside of every fresh can of the Bubbly Clam's chowder. You can learn more about his origins
over on HATEmale's website
.
This year's debut Chowderhead shirt is seen above, at the top of this post, which is in fact the first time an image of the design has been seen ANYWHERE! As in ... anywhere. Yep, you guys are the first to witness his rise!
Now the thing about Chowderhead's debut shirt is that only 25 of them will be printed up, and each one will be housed inside a faux clam chowder can (above). Though HATEmale's shirts are normally sold both on their site and in the Massachusetts clothing store 1000 Degrees, this particular shirt is going to be their first internet exclusive, which means that in their web store, beginning October 30th, will be the only way to get one. Well, and here on Freddy In Space, right here, right now!!
All you've got to do to enter is head over to
HATEmale's Facebook page
, and give it a big ole 'Like'. After doing that, come on back here and leave a comment on this post, with your e-mail address. Also be sure to include your shirt size, ranging from Small to 3XL. As long as you get your comment in by the end of the day next Monday, October 29th, you'll be on your way to taking Chowderhead home!
Good luck to all and a big thanks to Neil for supplying the awesome prize. Again, aside from this giveaway, Chowderhead will be available October 30th, only in
HATEmale's web store
!
VIVA LA CHOWDERHEAD!!