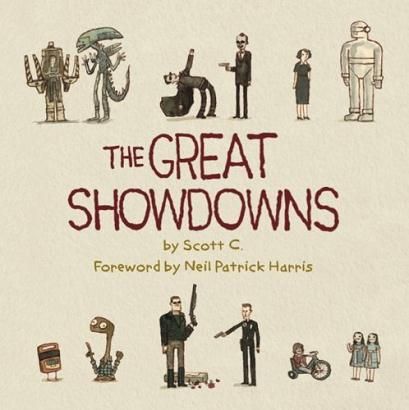 With Thanksgiving and Black Friday rounding out the latter portion of this week, the time for holiday shopping is now in full swing. Christmas/Hanukkah will be here before ya know it, and you'd better start your shopping real soon. But what do you get the fellow horror fan in your life? As I do every year, I'm here to help out.

For the next month or so, I present to you the Freddy In Space 2012 Holiday Gift Guide, chock full of the coolest gifts that are out there in the world, just waiting for you to gift them. You can thank me when you see the faces of your friends and loved ones light up with ghoulish glee, as they unwrap gifts they'll never forget unwrapping, the kinds of gifts they won't toss into storage come December 26th. So help me help you be the best gift giver you can possibly be, won't you?!

First up, we've got a gift that I myself was actually gifted a couple weeks back, when an advanced review copy popped up on my doorstep!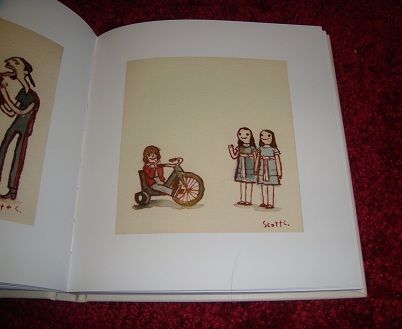 I first blogged about artist Scott Campbell's
Great Showdowns
art series back in
early 2011
, and I went on to post even more art from the series
earlier this year
. As a mega fan of the series, and Scott's simplistic almost child like approach to depicting cinema's greatest battles, I was incredibly delighted to see that Titan Books and
Gallery 1988
teamed up to release some of his art from the series into a little art book (released October 30th), taking that art off the net and giving fans a chance to actually have a physical hard copy of it. Ya know, in case the internet ever dies or anything.
Basically, in a nutshell, The Great Showdowns art series is Scott's unique take on iconic big screen showdowns, be it Brody fending off Bruce the man eating shark or Drew and that little deformed hillbilly boy engaging in a battle of dueling banjos. The Great Showdowns book features over 100 of the pieces from Scott's extensive collection, and though nearly 30 of them depict battles from horror films, the happy go lucky watercolor showdowns run the gamut of genres, with everything from ET to Cuckoo's Nest and Elf to Fight Club represented. Essentially, the book encapsulates several decades of great cinematic battles, as you would find them doodled by a child in the back of his school notebook. Charming? Highly!

The Great Showdowns is my favorite kind of book; a picture book, with none of those boring words to read through. The book does feature a very short foreword by Neil Patrick Harris, followed by a brief intro from Scott, but from there on out it's all images.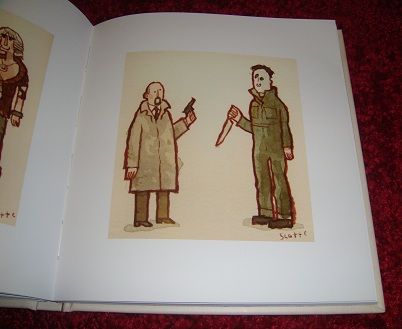 True, all of Scott's
Great Showdowns
art is available for free browsing
over on his website
, but nevertheless, it's nice to have a physical copy in hand, and this books makes a wonderful, and cheap little gift. The book is currently selling for just over
$10 on Amazon
, so you really can't go wrong. For the film fan,
Great Showdowns
is a must have coffee table book, a great conversation piece that should always be lying around to put a smile on your face, when you need it most.
As Neil Patrick Harris remarks in his foreword; "
The more I look at Scott Campbell's work, the bigger a fan I become
." Amen, NPH. AMEN!