The Mondo Gallery in Austin, Texas recently ran a Universal Monsters themed art show, which actually just wrapped up about a week ago. My favorite pieces from the exhibit were painted by
Madballs
illustrator/designer James Groman, the super cool dude that
I interviewed
right here on Freddy In Space, a couple months back (one of my favorite posts that I've ever made, in the many years I've now been blogging!).
For the Mondo show, Groman took the theme of the exhibit and infused it with one of the greatest monster toys of all time, creating a line of Universal Monsters Madballs that I absolutely need to own, and squeeze, right this instant. I've got a feeling you're about to experience the very same desires!
'CREATURE BOUNCES AMONG US'
'FRANKENSPHERE'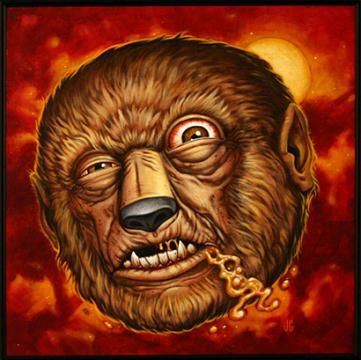 'WOLFBALL'
Over
on his blog
, Groman remarked that if he has his way, these paintings will be turned into actual
Madballs
someday. Please God, let James have his way!!
You can check out all of the art from the show over on
Mondo's website
, where you can even purchase Groman's original 16x16 acrylic paintings, for $1,000 a piece. In other words, I'm playing the lottery tonight.