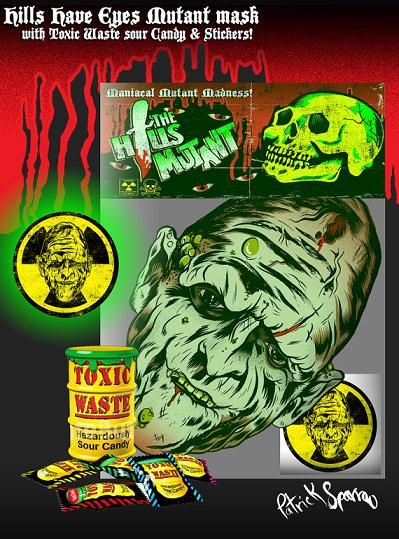 Earlier this year, super talented artist and personal friend of mine Patrick Carson Sparrow began making fun little horror movie themed playsets, in the vein of those cheapo kiddie playsets you find in toy stores. His first one was
Maniac Cop themed
, and came with a wearable Matt Cordell mask, along with a plastic gun, badge, and set of handcuffs. From there, it was onto
They Live
, which again came with a wearable mask, black sunglasses, and a bunch of chewing gum ... everything one would need to spot alien invaders and kick some ass, while never running out of bubble gum!
Sparrow's latest horror movie playset turns you into the mutant Pluto from the original Hills Have Eyes, of course played by the ever so loveable Michael Berryman ... who by the way, aint no chicken fucker, BOSS!
The 'Hills Mutant Playset' comes with a wearable Pluto mask, complete with a strap and perforated eye holes, as well as a sticker and two pieces of Toxic Waste candy, super sour little treats that allow you to experience what it's like to suck on radioactive waste, without dealing with the mutant children that would surely result from such a habit. Because that's no fun, now is it?
Sparrow has supplied me with two of these playsets, which sell for $20 over in
his Etsy shop
. But you're not going to have to drop $20 to get your hands on these. All you're gonna need is a little bit of luck. Oh, and you'll have to enter too.
So if you want one of the two playsets, simply leave me a comment below, with your e-mail address, and the name of your favorite film that Michael Berryman has appeared in. I also encourage you to head over to
Patrick Carson Sparrow's Facebook page
and give it a 'like', though that is not required in order to get your entry in. But do it anyway!!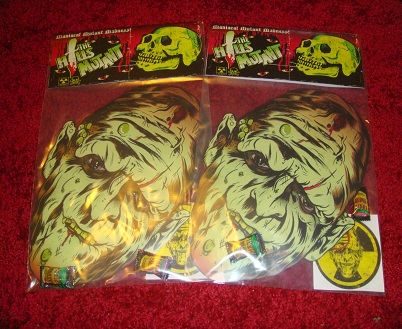 Deadline for entries is next Thursday, November 22nd, so make sure to get yours in before the end of the day, on that day. Hey, that's Thanksgiving, all the more reason to show your thanks to Patrick Carson Sparrow, for providing these awesome prizes, by 'liking'
his Facebook page
and checking out
his Etsy shop
. I'm thankful for Patrick Carson Sparrow, and you should be too!!