So Halloween this year for me, and for many others around the country, was a total bust. I'm personally more into the month of October as a whole than I actually am of Halloween itself at this point in my life, but Hurricane Sandy hit us hard in New York this past week and pretty much rendered Halloween day a total bummer, which was definitely highly disappointing. For one, I had to work all day, which is actually the first time I've ever worked on Halloween. And for two, the hurricane knocked out our power for most of the week, including on Halloween, which meant that I couldn't even watch horror movies, and that pretty much nobody came out trick or treating. Trick or treating has been a dying art around these parts for many years, and with downed trees and power lines and no porch lights able to be turned on at most of the houses in town, that dying art was pretty much totally dead this year. In fact, whenever I wished customers at work a Happy Halloween, they almost always had to think for a second before realizing that it even was Halloween, which was a bit heart breaking. Damn you, Sandy!!
That being said, I packed in a whole lot of Halloween fun throughout October, fun that reached its peak last weekend, when Jen and I went up to Syracuse to visit my brother and his girlfriend, for Halloween weekend. So I really can't complain, especially given how many people got hit so much harder than we did. If the worst we got of it was that Halloween was ruined and we lost power for four days, then we got pretty damn lucky.
So here's a little recap of our Halloween weekend spent in Syracuse, including a picture of the revealing costume I've been teasing on Facebook (and up above) all week!!
We got to Syracuse on Friday night, and had a couple options of different Halloween activities to take part in. One of the ideas was to hit up a local theatrical screening of the original
Dracula
, a big event that apparently had some kind of vendor room set up for it, but when my brother pitched me on the idea of something called '
Fright Nights At The Fair
', I was totally sold. There's a big fairgrounds area in Syracuse, and every October, they turn a portion of the fairgrounds into one big haunted attraction, where they actually pack six different haunted attractions inside of one big ole barn. The thing that sealed the deal on this one for me was that one of the attractions was advertised as being based on
Hostel
, and you just know I couldn't pass such a promise up. The fact that my brother had $5 off coupons for the tickets, which were only 20 bucks to begin with, didn't hurt either!
Upon entering the haunted barn, through the giant open mouth of an evil clown, a wave of carnival food smells hit our nostrils and I knew we were in good hands. My philosophy is that if the air is thick with corn dog, you're going to have a good time, a philosophy that hasn't let me down yet.
Right at the entrance, they had a Predator encased inside of a glass cage, further confirmation that we made the absolute perfect choice for the night, and that the 6 hour drive was going to be worth it. The Predator came out of his entrapment every so often to take pictures with people, and he was pretty damn entertaining to watch, considering he spent the majority of his time in there rocking out, playing air guitar, and dishing out DX style crotch chops to the audience. Glad to see the Predator has become totally humanized and docile, at this point. Fun dude to hang out with, go figure!

How it worked was that you bought your ticket, and whenever you went into an attraction, a hole was punched through the ticket, which was numbered 1-6. So basically your ticket allowed you to hit up each haunted attraction once, with the final one being a haunted hayride. Though the Hostel themed house was the scariest and coolest (and yes, it was actually based on the movie!), the most impressive of the attractions was called 'The Giant', where you literally walk through an absolutely massive inflatable human body (above). They didn't really do too much to scare you while inside there, but it was totally awe inspiring, and the inside of the thing was actually laid out like the inside of a human body. Very very cool.
Each house was admittedly pretty similar to one another once you got on the inside, with the one real different one being a pirate themed one with 3D paintings on the walls (which beat up 3D glasses were provided for), but nevertheless we had a total blast at Fright Nights At The Fair, truly one of the most fun times I've had in a long time. Around where Jen and I live, all you really get around this time of the year is the typical stand alone haunted house, so it was really awesome to spend a couple hours in that old school fair atmosphere, which really brought back memories for me. It was almost like stepping foot in The Funhouse, and I can only hope that in the future they add one of those sit down ride through attractions, like the one in the movie. Never see those anymore!
Here are some more pictures I took at Fright Nights, of the different sights and attractions. It may not exactly be Halloween Horror Nights, but we had a damn good time taking it all in!


After getting home from the fair, we grabbed some delicious foods and then just hung out on my brother's couch, drinking pumpkin beer and watching Dream Master. I know I always name Dream Warriors as my favorite in the franchise, but it's Dream Master that I have the most childhood connection to. So it's really a toss up between the two. It's no coincidence that those are the two films Ken Sagoes is in. Just sayin'.

The plan Saturday night was to go to a costume party taking place at a sports bar near my brother's house, called Rosie's. I had been stressing about this for weeks, unable to think of a solid costume to rock at the party. The past two years I have bought costumes from the store, and this year I wanted to re-discover the joys of actually piecing together my own, and being something truly unique. My initial plan was to be Tommy Jarvis from Friday Part 4, as he is towards the end of the movie, with the shaved head and short shorts, but I talked myself out of it when I realized I'd have to shave my beard, put on a shitty bald cap, and walk around in a packed bar in Jen's butt hugging jean shorts.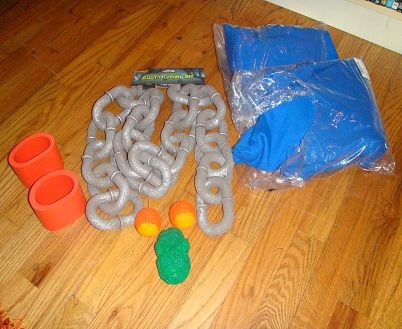 So I decided to pull a total 180 and make myself a My Pet Monster costume. I spent good money to have a blue sweatshirt and sweatpants rushed to the house, and grabbed a whole bunch of other supplies from Michaels, which Jen and I attempted to turn into a mask. The mask was really the only hard part, because other than that it was just a matter of throwing on the sweats, and rigging up some orange handcuffs. I admittedly had my doubts all along, as the whole thing was kind of ambitious, a truly desperate attempt to put something together in the final days before we left for Syracuse.
As I suspected, it just didn't work, despite Jen's valiant and impressive efforts. So it was back to Plan A; Tommy Jarvis. Fuck it, I thought. If I can't shave my beard and rock short shorts for Halloween, then what kind of Halloween lover am I ... am I right?!
So I decided to just throw caution to the wind and go for it. Jen had the shorts in her closet and I found a shirt on eBay that was pretty close to the one Feldman rocks in the movie, so it was all just a matter of shaving and making the bald cap work. With a whole lot of help from Jess, my brother's girlfriend who is quite talented in the art of hair and makeup, as well as my wife Jen, we made it work, and if I may say so myself, the costume came out looking even better than I expected it to. Had to put a whole lot of hair gel in my hair to slick it back, and it took a solid hour to put on the bald cap, blend it to my skin, and attach wisps of hair to it, but in the end, I experienced a full Halloween transformation, like Feldman does in the movie. Only, I didn't become Jason Voorhees. I became Tommy Jarvis ... becoming Jason Voorhees.

Here goes nothing...

And here's a comparison shot...

Yep, I walked around in a bar looking like that all night, and I'm quite proud of the fact that I did. This is my favorite Halloween costume I've ever put together, and I'm pretty proud of myself for really going for broke this year, and fully committing to Halloween. Nothing beats putting together your own costume, and I think that's what I'm gonna be doing from now on. Totally cheaper that way, and you can create far better costumes than the overpriced shit you can buy in the store. It's a fact.
If one of these pictures of me is the first thing that comes up whenever anyone Google's 'Tommy Jarvis Halloween Costume' in the future, I will be the happiest man alive. And it will have made getting drunk with my nuts almost dangling out of my shorts well worth the embarrassment. Hope hope!

So suck on that, Hurricane Sandy. My Halloween season was totally awesome, even if you ruined the day itself. And you can never take that away from me!!