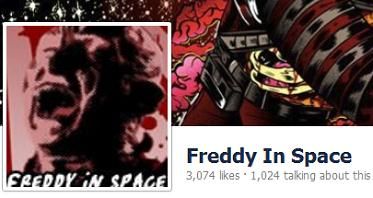 For a blogger like myself, Facebook is an absolute godsend, and their fan page feature a terrific way of getting content out there to the world, by harnessing the power of the most trafficked website on the net. I typically spend more time every day on the
Freddy In Space Facebook page
than I even do on the blog itself these days, because it's such an easy and convenient way to share and talk about whatever is on my mind, without having to spend the time writing up a lengthy blog post. When I've got the time, I blog. But when I'm on the go and really don't have a solid hour to dedicate to writing something up, or have something to say that doesn't warrant an entire post, I drop it onto the fan page, and try to keep things as exciting and current as possible over there. Essentially, the Facebook page acts as a whole 'nother blog, a branch of the blog itself that I don't know what I'd do without.

Which is why I, like many other fan page owners, was incredibly upset when I saw that Facebook had rolled out the 'Promote a Post' feature, which brought to light the fact that not all page updates are seen on the feeds of people who 'like' the page. Case in point, though my page has over 3,000 likes at the moment, each individual post is typically seen by less than 1,000 people, meaning that the majority of the people who have liked the page over the years aren't even seeing the content I post on there, unless they go directly onto the page itself. Since I have worked so hard on the page, and spent so many years getting all those fans, this news was quite upsetting to learn. I mean, what in the fuck is the purpose of acquiring fans, if those fans aren't even getting to see the updates they're telling Facebook they want to see?!?!

I guess that's the way things have always been, but it was that 'Pay To Promote' feature which made people realize what was going on. With the new feature, Facebook allowed fan page owners to pay money to have individual posts seen by more people, and we're not talking mere pocket change here. I've got some friends who spent a couple hundred bucks on a single post, and the post still ended up not being seen by as many people as had already been fans of their page. ?!?!

This has been the topic of conversation amongst fan page owners for months now, with really no solution to the problem. One way fan page owners have tried to make up for this has been by telling their fans to add their page to an 'Interest List'. How Interest Lists basically work is that you first create an Interest List, such as "Horror Blogs", for example, and then add all of your favorite horror blogs to that interest list. Once you click the tab for that list on the sidebar of your Facebook screen, you are treated to every current update from all of those pages. That's all good and well, but it still means you have to click over to a separate page to see all the updates from your favorite pages, which begs the question of why the hell don't you just go directly to the fan pages that are your favorites, and check up on them everyday? It's a useful feature, but it really doesn't solve this particular problem.

At long last, I'm happy to report, Facebook has come up with a true solution to this ridiculousness. With the brand spankin' new 'Get Notifications' feature, one simply has to go over to their favorite fan pages, hover over the 'like' button, and tick on 'Get Notifications'. What does that do? Well, every post from that page still won't pop up directly onto your feed, but perhaps even better, you will get a little red notification on your Facebook taskbar every time that page is updated, the same way you get notified every time someone comments on a picture you post. This way, without directly checking on your favorite pages several times a day, you won't miss a single update from those pages. And suddenly, all feels right with the world again.


So if you love the
Freddy In Space Facebook page
, and don't want to miss updates, make sure you click on the 'Get Notifications' feature on the page, and I encourage you to do the same for all the Facebook fan pages that you enjoy. A lot of time and work goes into these pages, and it'd be a damn shame for updates to go unseen by the majority of the page's fans. So make sure that doesn't happen!!