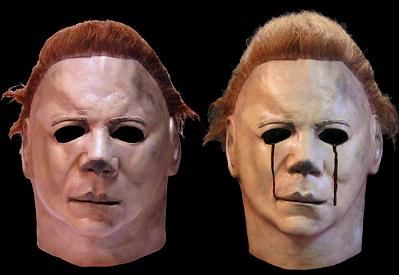 On Halloween night, I kicked off
a fun little art challenge
, where the prize was one of
Trick Or Treat Studios
' awesome Michael Myers
Halloween 2
masks, with the winner getting to choose between either the standard version or the post-gunshot blood tears variant. The challenge? Present to me an image (either drawn or otherwise) that depicts an average ordinary day in the life of Dr. Loomis, when it's not Halloween, and when he's not hunting his own personal Moby Dick; Michael Myers. Got 15 awesome art entries in the challenge, and it's now time to pick the winner!!
But first, I encourage you to head over to the
Freddy In Space Facebook page
, to browse through images of all 15 entries. I had planned on posting the images directly on here, but since several of them are pretty long horizontally, and thus wouldn't really fit here without being severely compressed, I decided to instead create an album for them on the Facebook page, so each one can be seen in all of its full glory. So go check out the album, to see all the entries!!
Though I was highly impressed by all the art, and the fact that so many people actually went out of their way to whip something up for this, I do have a personal favorite, one which made me chuckle harder than all the others. Since the point of the challenge was to make me laugh out loud, that favorite entry of mine is also the winner of the challenge.
And so, without further adieu, the winner is....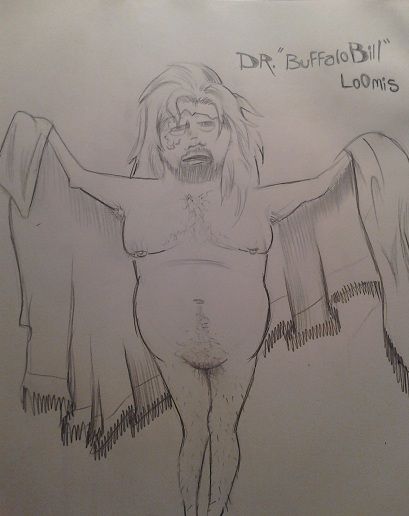 JASON ADCOCK, who imagined Dr. Loomis so bored at home, without Michael Myers around to hunt, that he resorted to tucking his kibbles and bits between his legs, and doing his best Buffalo Bill impression ... that's an image I'm not sure I will ever get out of my head, and one that continues to make me laugh out loud every time I look at it, or even think about it. So job well done Jason, and congratulations. Your Michael Myers mask (the standard version) will be on its way shortly!!
Again, thank you so much to all who took the time to enter. And I again must reiterate that you should head over to the
'Day In The Life Of Dr. Loomis' album
on the Freddy In Space Facebook page, to see the other 14 awesome entries, all of which will likely put a big ole smile on your face.
Thanks for making this challenge so much fun, folks!