One of my favorite feelings in this world is coming home from work, or from anywhere really, and knowing that I get to spend the rest of the night in my home, with my wife Jen and our two cats ... my favorite period of time in any given day. That feeling of comfort was forever altered on Friday, when I came home from work to find Jen and one of our cats, Buddha, on the floor, Jen balling her eyes out. Buddha had a heart attack right before I got home, and died in her arms. To describe how I'm feeling right now by using the word heartbroken would be an understatement, but I'm hoping I can alleviate a tiny bit of this pain by typing up a little something about Buddha, and what he meant to us. So bear with me.

Buddha entered Jen's life a few years before either of them entered mine. About eight years ago, Jen had been living in New York City, and was about to head down to the subway one night, on her way to a party, when a tiny little kitten with swollen belly jumped up on her leg, and immediately captured her heart. Jen proceeded to take the cat, which she named Buddha due to the size of his belly (a result of a nasty case of worms), and bring him down onto the subway with her, and over to her friend's house. From that moment on, Jen and Buddha were the very best of friends, a bond that was more like a mother/son bond, than a cat/owner bond.

I met Jen a few years later, and we fell in love pretty soon thereafter, just like her and Buddha did (guess she makes it pretty easy!). She used to go on and on about Buddha, and how amazing he was, and if I'm being honest, back then, I kinda didn't understand it. I had owned pets before, and in fact had a dog at the time, but the way Jen treated and spoke of Buddha was unlike anything I had ever seen before. He was the absolute most important thing in the world to her, and I remember back then even being a bit jealous, and wondering if she loved me as much as she loved him. The love they shared was magical, and the bond so powerful that I couldn't help but wonder how Jen would ever go on without him.

After Jen's mom passed away, a couple years after we started dating, Jen and Buddha moved into my parents' house with me, which is when I really got to know him, and officially became his dad. We spent the next year there together, before moving into our own place, and forming our own little family. It didn't take long before I realized why Jen was so attached and so in love with Buddha, and I quickly developed the same feelings for him. I know that everyone thinks their own cat is the most amazing cat in the world, but believe me when I say that this cat was an absolute angel, the most perfect and loving creature I had ever come into contact with. In fact, calling him a cat kinda doesn't even seem fair, because he was almost human in the way he carried himself, incredibly smart and with a whole lot of personality.


Jen and I adopted a brother for Buddha a couple years back, who we named Mothman (on top of Buddha, in the above picture), given his large eyes and his taste for moths. They didn't get along very well at first, but eventually became best friends, and could often be found cuddling and wrestling. The two of them were the most precious things in our lives, and we really saw them more as our two children, who we referred to as "the boys", than mere pets. Our lives were more or less completely centered around the two of them, and when we weren't home giving them all the love we could give them, we were wishing we were home with them, and talking about them pretty much whenever we couldn't be. They were our lives, and coming home to my little family of four was the most comforting and special thing in the world to me. There was absolutely no where else I'd rather be, no matter what was going on outside of our house. And no matter how shitty my day was, I always had the four of them to come home to, and to make me happy again. There is no feeling greater than that.

About a year a half ago, Buddha started losing weight and acting weird, so we took him to the vet, where he was diagnosed with a serious heart condition. We learned that most cats with the condition simply die without ever being diagnosed, and that we were lucky we caught it, and could keep it under control with medication. For the past year and a half we've had to give Buddha a couple pills every night, which is something he always dreaded and never dealt with very well. But we did it, and it seemed to be working, despite the fact that he never quite regained the loss of weight that was our initial alarm that something wasn't right.

Were we prepared for this? I guess you could say we somewhat were, being that we knew our time with Buddha was limited. But even though he had the condition, the medicine seemed to be helping and he seemed to be fine, right up until the end. In fact, on Thursday night, Jen worked late and I sat on the couch with Buddha, watching Psycho 2, and I held him almost the entire time. Whenever I'd pause the movie and get up for a minute, I'd take him off of me, and he'd always sit right back on top of me as soon as I sat back down. At the time it was just any other normal night, but now looking back, it's a memory I'll forever cherish; our last night of hanging out, just dad and son, watching a movie together. I'd give anything for one more of those nights, and I only wish I had cherished them more, when I was able to have them.

The next day, while I was at work, Jen was washing her hands in the bathroom, when Buddha came bursting through the door, which was ajar. He began having a heart attack, and Jen picked him up and held him, before he died in her arms. I walked in the door shortly after, and found Jen sitting over his lifeless body, and knew that our lives would never be the same again.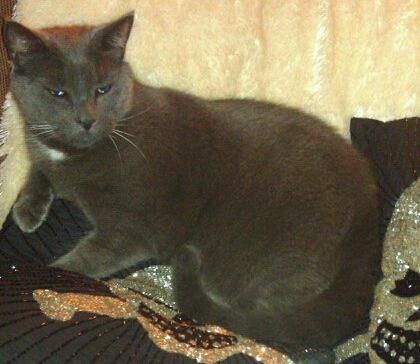 I know it might seem silly to some of you, but we are absolutely devastated right now, and have spent the last 48 hours in tears. I've lost a few pets throughout my life, including a cat and a dog, but I've never quite felt the heartbreak I'm feeling right now. I honestly feel like we lost a child, which I guess we did, and I can't seem to get over the fact that our family is no longer whole. Jen and I aren't a particularly social couple, and our two cats were pretty much our main source of happiness and joy, so we're both feeling a bit lost and empty at the moment. That comfort of entering our home from the outside world has been replaced with sadness, since Buddha's no longer there to greet us, and everything in the house reminds us of him. I feel like a big hole has been blown through me, and like our little family has been taken away. I am completely and utterly heartbroken, not only for myself, but even moreso for Jen, and for Mothman, who is now without a best friend. Seeing him approaching Buddha's body on Friday, wondering why his brother wasn't getting up and playing with him, is something I will unfortunately never forget.

If there is any silver lining here though, it's that this all happened while Jen was home, and able to comfort and hold Buddha in his final moments. That's the way we were hoping this went down when it finally had to, and I'm very happy that things worked out that way. I don't know that I would've ever been able to get over the thought of him spending his final moments alone, and scared. So I'm very thankful Jen happened to be home, and there for him.


I'm proud and honored to have been your dad, Buddha. Thank you for all the joy you brought into our lives, and for teaching us how to love, unconditionally. You truly enjoyed every day you spent on this Earth, and from here on out, I'm going to try and do the same.

I'm sorry for getting annoyed when you'd sit in front of the computer while I was trying to type, chew on my ears at 5 in the morning, and push stuff off the headboard of our bed onto me. I'd do anything to have all those little annoyances back in my life, and I will forever cherish every moment we spent together. And I promise to give Mothman and mom all the love you gave them, every day.
I'll miss you and love you forever.