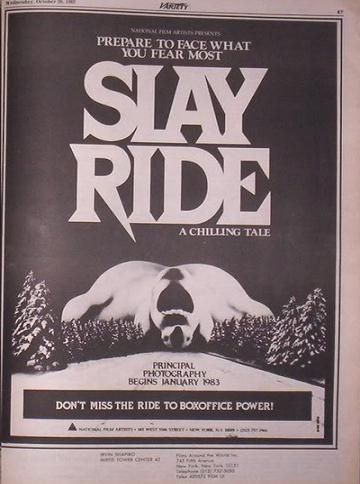 Back in the day, advertisements were oftentimes placed into print magazines before the films were actually even shot, as a way of generating early buzz. Since movie titles don't always stay the same from pre-production to release date, this resulted in many ads being taken out for movies that eventually underwent title changes.
Case in point, this Variety ad from 1982, for a film which was to be titled Slay Ride. At the time, Slay Ride was gearing up for principal photography, and went on to become known by its now iconic title; Silent Night, Deadly Night.
Though the ad promised a "...ride to box office power!", that of course wasn't how things worked out. After massive parental outrage and protest, all Silent Night, Deadly Night ads were pulled, with the movie itself also being pulled from theaters.

Soon thereafter, Silent Night was re-released into theaters by a different company, changing the original and totally awesome chimney ad/poster to one that had no visual depiction of a killer Santa, and played up the controversial nature of the film.
Of course, the irony of all the outrage is that it was that very outrage and parental protest that resulted in Silent Night, Deadly Night becoming such an iconic and important horror film. When are parents gonna learn; when you tell your kids to not watch something, that's precisely what makes them want to watch it!!

**UPDATE : THE AD POSTED ABOVE IS ACTUALLY NOT THE ORIGINAL AD FOR SILENT NIGHT, DEADLY NIGHT. I WAS JUST INFORMED OF THIS BY THE FILM'S EXECUTIVE PRODUCER, WHO DROPPED THE FOLLOWING COMMENT BELOW...

Scott Schneid here, the executive producer of "Silent Night, Deadly Night." Just wanted you to know that the black & white Variety "Slay Ride" ad from 1982 WAS NOT for the "Slay Ride" that eventually became "Silent Night, Deadly Night."

While I can see where you might think that (the SNDN screenplay was originally titled "Slayride"), we weren't able to use that title because of this other "Slayride" project. And although it didn't get made, the production registered the title with the Motion Picture Assoc. of America, thus prohibiting us/Tri-Star from using it at that time.

THANKS FOR CLEARING THAT UP, SCOTT!!**