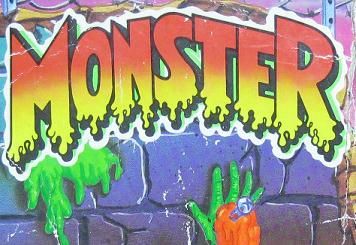 It's been way too long since we've taken a peek inside the Freddy In Space Vintage Toy Box. And since I'm having one of those nights where I find myself kicking back with a few beers and scavenging around the net for awesome old toys, I think tonight's the night to crack back into it. So let's dust the toy box off and dig into it together, shall we?!
Tonight, we head into bootleg territory, courtesy of a little company called Sungold. I haven't been able to find much information about Sungold, but I do know that they came to the attention of toy collectors in 1983, when they launched a line called
Galaxy Warriors
, shameless rip-offs of the ever popular
Masters of the Universe
toys, which were of course put out to massive success by Mattel, just one year prior. With characters like Huk, Baltard and Dino Man, the
Galaxy Warriors
toys were more or less carbon copies of the
Masters of the Universe
toys, only a bit cheaper looking. Still cool as shit though, what with that awesome
Dinosaur
and all.
Sometime in the early 1990's, Sungold turned their attention to the horror genre, and launched a line simply called
Monster
. In the
Monster
line were six knockoff toys depicting popular horror icons, some of which looked pretty close to their big screen counterparts and others which had a bit more of an artistic touch to them, if we can call it that.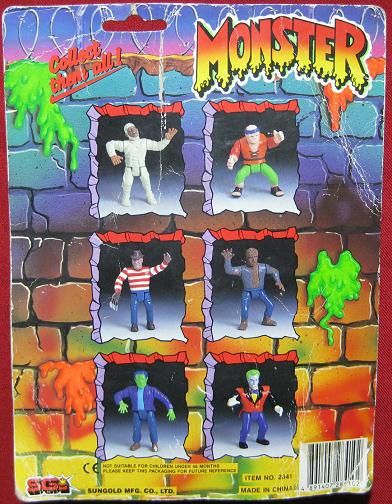 **CLICK TO SUPER SIZE!!**
Though Sungold didn't bother coming up with goofy names for any of the toys, like they did with the
Galaxy Warriors
, it's not hard to tell who the six characters were supposed to be. On the top left we've got an African American Mummy. Next to him appears to be The Hunchback of Notre Dame, with hints of
Fantastic Four
's Thing and The Toxic Avenger thrown into the mix. Below them, we've got what is of course my favorite figure in the line, a Freddy Krueger knockoff in a red and white striped shirt, and blue jeans, a sort of mash-up between Freddy and Waldo. This toy was my very first introduction to the
Monster
line, when I stumbled upon it on eBay several years back.
Next to Freddy is The Wolfman, the most impressive and screen accurate figure of the bunch. And rounding out the line are decidedly flamboyant versions of Frankenstein's Monster & Dracula; Frankenstein rocking a blue hairdo and a bright purple jacket, and Dracula looking more like Captain Planet dressed as Dracula for Halloween, than any version of Dracula I've ever seen.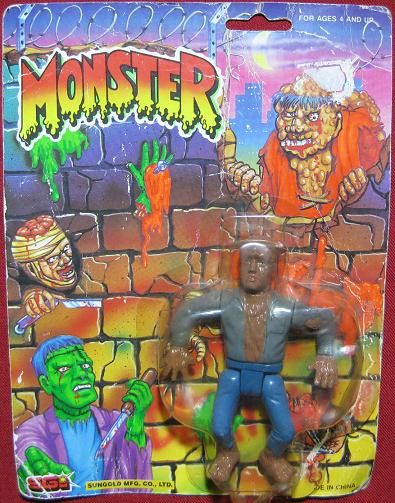 The real highlight of the set, toys aside, is of course the insanely epic packaging, which features all kinds of amazing art. We've got Quasimodo hanging out in the city, and looming over a brick wall which would appear to be the very brick wall that separates Earth from Hell. Ripping through the wall and hanging out on the other side are a few of the characters from the toy line; The Mummy, looking more like Chop Top than his action figure counterpart, Frankenstein holding a bloody knife, and if you look closely, you can even see Waldo Freddy's glove poking through on the bottom right. Goddamn, is that art awesome or what?!
**By the way, that image of Frankenstein looks insanely familiar, like something I know I've seen on a horror movie poster. Not a movie with Frankenstein in it, but I know I've seen a horror villain in that exact same pose, somewhere before. Can't place the movie though. Anyone?!**
Now here's where things get even more interesting. A German company called Simba put out the same line of six toys, only with the name of the line changed to
Monster Vampire
. Simba was formed in 1984, and I really have no idea who put these out first, information that I can't find anywhere on the internet. When dealing with bootlegs, it's always hard to find concrete info. But I'm thinking Sungold put these out first, in the states, and then the Simba versions were knockoffs of the knockoffs, for the German market. Who the hell knows though.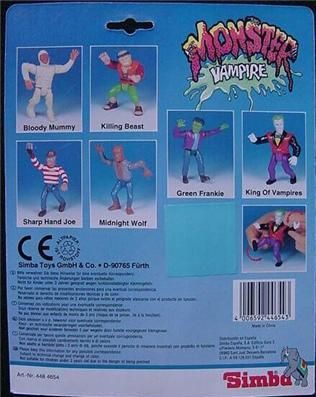 Though the figures in the
Monster Vampire
line were exactly the same as Sungold's
Monster
line, the Simba variations actually had names on the back of packaging. I've known about the
Monster
line for years and only discovered the
Monster Vampire
line recently, so all feels pretty right with the world right about now, now that these bootleg monsters have finally been given identities. So I'm sorry for referring to you as Waldo Freddy for so many years, Sharp Hand Joe. It won't ever happen again.
Back on the Sungold front, the company also put out a line of smaller
Monster
toys, which were packaged in two packs, and were of a very different style than the original six
Monster
toys. Different variants of each of the six characters were in the smaller rubbery line, with a few other different mutants and messes thrown into the mix, including
a skeleton and a mad scientist
. As you can see above, the mini Freddy's sweater colors were changed from red and white to red and yellow, and he was given a blue hat and green pants. He also appears to have hair growing on one side of his face. Or maybe that's a face tattoo, long before Mike Tyson made them cool. Either way, I won't judge.
Though these were all just crap dollar store knockoff toys back in the days when they were released, the
Monster
toys have become highly collectible and sought after in recent years, thanks to their bootleg charms and of course, awesome packaging. I rarely seem to find them on eBay and don't yet have any in my own collection, but I assure you, that will soon change.
If you have any more information about either of these lines, please do hit me up and spread your knowledge!!