Pick your jaw up off the floor, wipe the tears from your eyes, and let's discuss last night's devastating episode of Walking Dead together! But first, the poll results from last week's discussion, where there was not one poll, but two!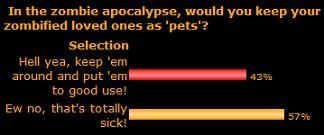 Gotta agree with the popular opinions on both counts here. While I dig Michonne's brilliant idea of keeping around zombie pets, as a way of throwing other zombies off her scent trail, there's simply no way I could bare to keep my own zombified loved ones around like that (though it's thus far only been implied on the show that Michonne's 'pets' were loved ones, it's apparently been delved into a bit more in the comics). Gotta do what ya gotta do to stay alive during the zombie apocalypse, but if I was to keep around arm-less bottom jaw-less chained up zombie pets, they sure as shit wouldn't be the zombified remains of people I knew on a personal level!
As for Poll #2, though Merle's robotic knife hand is pretty badass, there's simply nothing more badass than a chainsaw hand, even if it'd make day to day life a whole lot more of a pain in the ASH! Get it? Get it?!?
Anyways, enough nonsense ... let's talk about last night's episode, which was very much no nonsense!
In the beginning of the episode, we saw a mysterious person unlock the gates to the prison, that had been keeping the zombies at bay. While Michonne and Andrea spend the episode planning their exit from Woodbury, which Andrea isn't quite yet ready to do (someone's drinking The Governor's Kool Aid!), Rick and the gang are forced to contend with this titular 'Killer Within', who is quite clearly out to turn our beloved survivors into zombie food.
With the gates unlocked, the prison soon becomes overrun with zombies, both inside and out, and the group is split up into five separate groups;
1) Hershel and his daughter Beth - Hershel has just begun taking his first steps as a man with one leg when the zombies bust in on their brief moment of joy. Hershel proves he's still as badass as ever, by using his crutch to push a zombie away, and lock himself and Beth behind a gate. Made me feel like a total pussy, since I've got all four of my limbs, and I'm still far less of a man than Hershel.

2) Glenn and prisoner Axel, who end up faring well for themselves, though we don't see all that much of them.

3) Carol and T-Dog - In the second saddest moment of the episode, T-Dog is viciously bitten by a walker, and then soon thereafter sacrifices his soon to be over life by bravely running into a horde of walkers, so that Carol can get away. Whether or not Carol does in fact live is left up in the air, though we never see her die.
4) Lori, Carl and Maggie - We'll talk about that in a second!

**ZOMBIE KILL OF THE NIGHT : DARYL DOES A RUNNING JUMP AND STICKS A KNIFE DEEP INTO THE SKULL OF A WALKER**
5) Rick, Daryl and prisoner Oscar - While on a mission to turn off power to the prison, we find out that it was Andrew that was opening the gates in the beginning of the episode, and who had sounded the alarms that Rick, Daryl and Oscar were looking to shut off. Andrew being the prisoner that Rick in episode 2 locked outside, letting the walkers do his dirty work. Knew he should've just killed that little shit himself! Andrew attacks Rick while Daryl kills zombies in that badass Daryl sort of way, and Oscar eventually gets a hold of Rick's gun, which he points at Rick. Though Andrew tries to convince Oscar to plug up Rick, so that they can take back the prison, Oscar shows that he's on Team Grimes by putting a bullet in Andrew's head, and handing Rick's gun back to him. Atta boy!!
As for Lori, Carl and Maggie's group, that's where the episode took a turn for the downright devastating. While on the run from a horde of walkers, Lori goes into labor, and it soon becomes evident that Maggie and Carl are going to have to crudely cut open Lori and pull the baby out of her. Per Lori's demands, they do just that, killing Lori but saving the baby. Flashing back to a touching moment in Season 2 where Rick told Carl that he's essentially got to man up and do what needs to be done, Carl puts a bullet in his mom's brain, off screen, so that she won't turn into a walker.
At the end of the episode, the group gathers back together, minus Carol, Lori and T-Dog, and Rick breaks down upon the realization that his wife didn't survive the birth of their child (if it even is their child...).
Phew. Talk about a ballsy, and utterly heartbreaking, way of dealing with that whole pregnancy situation. You knew things weren't going to end well, but my god, did not expect everything to go down so soon, and in the immediately tragic way that things went down. I don't think I'm alone when I say that there wasn't a dry eye in my home last night.

**QUOTE OF THE NIGHT : "IT'S SO EASY TO DO THE WRONG THING IN THIS WORLD. SO IF IT FEELS WRONG, DON'T DO IT. IF IT FEELS EASY, DON'T DO IT" - LORI'S FINAL WORDS TO CARL**
As Chris Hardwick pointed out on last night's Talking Dead, this episode felt like a season finale, which is why it's pretty mind blowing that all this went down on only the fourth episode of the season. I'm not sure that I can even handle much more devastation, and it's looking like devastation is pretty much all we're going to be fed throughout the rest of the season. Now more than ever, things seem completely hopeless for the group, and it's hard to imagine that they'll ever be able to smile for even one second again. I expect that I'll be losing quite a few more tears as the season progresses.

The thing that's so great about this show is how connected you become to the characters, and you really feel it when one of them dies, as if you yourself are one of the members of the group. I remember being totally devastated when Rick had to kill Shane, and I had that same feeling last night when Lori died, almost a feeling that someone I knew had actually died, in real life. Sounds weird now that I type that out, but I was completely devastated and felt like I got beaten with a sledgehammer last night. Now that's when you know you're watching a damn good show, when it affects you to that extent.
This season so far has been absolutely incredible, and last night's episode was hands down the best so far. As a friend of mine pointed out when we were talking about the episode last night, the writers were clearly paying attention to all the fan feedback from last season, and have really been working hard to fix all the problems and complaints that the trolls have had about the show. T-Dog's lack of screen time became a constant internet joke, so they gave him a lot more screen time, and then killed him off. Everyone was fed up with Lori and wanted her to die, so they killed her off too, in a way that probably even made those jerk offs who wanted her dead shed a few tears. And the biggest fodder for internet memes from last season was the fact that Carl was constantly nothing more than a little kid who Lori couldn't keep track of, so they turned Carl into a total badass, more or less a fully grown adult inside the body of a child.

As for the overall tone of the show, many had complained in the past about it being too focused on the characters, rather than on the zombies, and this season so far has been chock full of equal parts story and awesome zombie kills and zombie moments. Awesome to see that with these changes, even those who were bitching about all this stuff last season seem to be fully on board with everything thus far this season. So I guess something good does come from internet trolls and their trolling ways, after all. Good to know the writers are out there listening!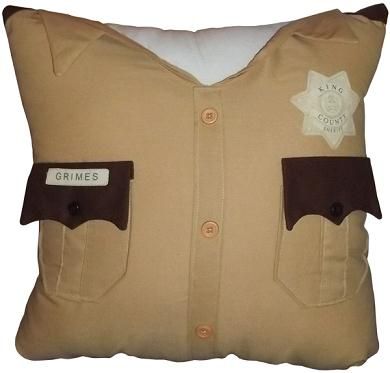 **COOL WALKING DEAD PRODUCT OF THE WEEK : OVER AT HANDMADE HORROR SHOP HORROR DECOR, YOU CAN GET THIS COMFY LITTLE RICK GRIMES PILLOW, FOR 18 BUCKS. BECAUSE WHO DOESN'T WANT TO LAY THEIR WEARY HEAD ON RICK GRIMES' CHEST EVERY NIGHT? I KNOW I DO!!**
The main thing I want to discuss about the episode is in regards to Lori, and her decision to let Maggie essentially kill her, so that the baby would survive. I want to know what you guys and gals think of that decision, and why Lori made it.

My personal opinion is that Lori at that point in time pretty much wanted to die. She felt that Rick wasn't in love with her anymore and she knew that life was just no longer worth fighting to live. I think that by telling Maggie to cut her open and take the baby out, that was Lori's perfect escape from everything, sacrificing herself for the baby but ultimately fulfilling her own selfish wish of it all being over.

As for the decision itself, and the impact it's going to have on the group, I can't help but feel like Lori really screwed over both Rick and the group as a whole. She seemed to think that the baby would give the group renewed hope, but that baby is going to be nothing but a burden to the group, who now have to fight to stay alive every day ... while carrying around a newborn baby. Who the hell's gonna feed that thing the nutrients it needs? And how are they going to stop it from crying all the time, and drawing walkers over to them? The zombie apocalypse is no place for a baby, and I think Lori really screwed the group on this one. Rick's now without his woman, Carl's without his mom, and the group is down a competent zombie killer, all so that the baby could live? I'm sorry, but if there is ever a time where abortion is the right choice, it's during the zombie apocalypse.

And what the f, Lori? You knew that Carl would either have to kill you or watch you get killed, so why was your priority on delivering this baby over saving yourself, and sparing your first born such an extreme heart break?!

Again, I think Lori just wanted to throw in the towel, and this was her easy way out. Totally selfish decision, if ya ask me. Gonna be reallll interesting to see how the group deals with this baby, and I cannot see it being around for all that long, unfortunately.

See what I mean about feeling like these characters are real people? Here I am getting mad at Lori for the decisions she made, as if Lori is not an actress being controlled by writers! The things this show does to me, I tell you!!

So what are your thoughts on all of this? Sound off below, and feel free to also discuss anything else about the episode that you're itching to talk about!

Here's a brief look at next week's episode, 'Say The Word'!