I don't know what's so sexy about seeing a woman dressed as a feminine version of a male horror icon, but there's no denying that it's pretty damn sexy. Being served a delicious homemade meal by Freddy Krueger's super hot sister? Don't even get me started.
But how would you go about convincing that special woman in your life to not only dress up as your favorite horror icon, but also cook you up some tasty dinner? Well, Haute Mess Threads is here to help, by delivering gifts that'll make the giftee as happy as the gifter ... now that's what I call a Merry Christmas!!
A one woman operation based out of Mississippi, Haute Mess Threads is a handmade Etsy shop specializing in 'kitchen couture'; unique aprons, pot holders and other things of the sort, with inspirations ranging from pin up to pop culture. There's even a line called 'Kitchen Killers', which are inspired by characters from the world of horror. Of course, those are the ones we're here to talk about today. This is a horror blog, after all.
So check out Haute Mess Threads' Kitchen Killers aprons, the absolute perfect gift for the horror loving female in your life!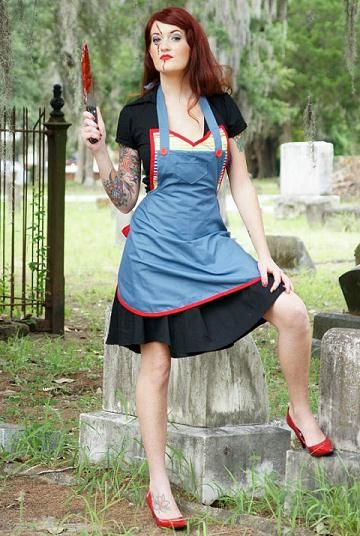 The following two are out of stock at the moment, but I couldn't not include them...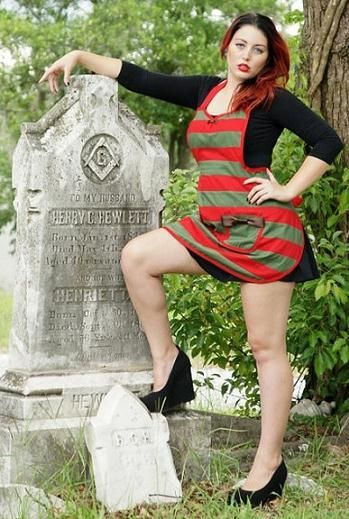 Most aprons sell for $60, and you can check them all out over at the
Haute Mess Etsy shop
, where you'll find kitchenware inspired by everything from
Beetlejuice
to
Star Wars, Hello Kitty
to
Dr. Who
. Also be sure to check out the
Haute Mess page on Facebook
, to keep up to date with the company!
Now, to figure out why the thought of my beautiful wife prancing around the house dressed as Rick Grimes is turning me on so much...