Nobody quite does Christmas like my family does Christmas, which was perhaps never more evident than this year's gathering. We all kinda go a little over the top and get each other way too much stuff, but that's just the way we've always done it. If anyone deserves to be spoiled on Christmas, it's my family, so I really don't mind being in debt the first few months of every new year, in exchange for giving them one hell of a memorable day. Can't put a price tag on that.

My family got me so much cool stuff this past Christmas, and I wanted to show some of it off here on the blog. Rather than making one mega post, which seems far too daunting at the moment, I figured I'd split some choice gifts up into a few separate posts, so I can really focus on each individual gift. So expect a handful of these posts throughout this weekend, and perhaps even into next. Some other smaller stuff will be popping up on the
Freddy In Space Facebook page
, too.
This first gift needs a little backstory...

My brother Chris and I are huge fans of Dream Master, the Elm Street film that we both have the fondest childhood memories of. We must've rented the VHS tape at least a dozen times from our local Blockbuster when we were kids, because I remember watching this one fairly frequently during my formative years. Gee, I wonder why I ended up starting a horror blog, with Freddy's name in the title!

In more recent years, Chris and I have developed a serious infatuation with Ken Sagoes, who played the hilarious and charming Roland Kincaid in both Dream Warriors & Dream Master. Our love of that character has become somewhat of a running joke over the years, and not a get together goes by where we don't bring him up at least a few times. In particular, the thing we talk about most is the moment in Dream Warriors where Kincaid calls Freddy a "burnt faced pussy", which is probably the single greatest line, with the single greatest delivery, in horror history.

So this Christmas, as a very special gift for my brother, I decided to contact Ken Sagoes on Facebook, and see if I could get him to autograph a
Dream Master poster
for my brother, with the words "
Merry Christmas, ya burnt faced pussy
!" on it. Ken was more than happy to oblige my request, and about a month ago I sent off a
Dream Master
poster for him, which I received back a few weeks later, signed exactly as I had requested it. I was over the moon excited about the gift, and I knew my brother would feel the same way on Christmas morning.
Cut to Christmas Eve (aka the scariest damn night of the year)...
Since Chris' girlfriend, Jess, was going to be with her family on Christmas morning, we decided that we'd exchange gifts with her on Christmas Eve; Jen and I would give her the gifts we got for her, and they'd give us a few things that they got for the both of us.
There was one gift under the tree that my brother was going to give me on Christmas morning, but decided to let me crack open on Christmas Eve. I ripped apart the wrapping paper, and I couldn't believe what was lying underneath it ...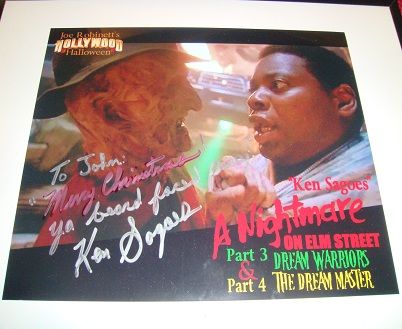 Yep, a personalized autograph from Ken Sagoes, wishing me a Merry Christmas, and calling me a 'beard faced pussy', a fitting twist on our favorite line from
Dream Warriors
.
At first, my mind could not even process what I was seeing, and I was fairly certain that a practical joke was being played on me. I wondered if Jen had for some reason told my brother about the gift I got him, so they decided to trick me by pretending he got the same gift for me. I just couldn't believe that we had both contacted Ken, around the same time, and requested the same thing from him. Truth of the matter was, that's exactly what happened, and Jen knew about both of the gifts, but couldn't tell either of us that we were both doing the same thing for one another!
On Christmas morning, the first gift I handed my brother was the poster I had Ken sign for him, and he opened it up and had the same feeling that he was being pranked. As you can imagine, we had one hell of a laugh over all this.
I can't help but wonder what was going through Ken's mind, when I messaged him asking him to call my brother a burnt faced pussy, and my brother messaged him, asking him to call me a beard faced pussy. He must think that there's something highly wrong with us, and I'm thinking he might be right in thinking that. Gonna have to drop him a message, and get some insight as to what was going through his head, when he received both of these requests!
Ken was such an awesome dude about all this and I just want to give a shout out to his charity the
Giving Back Corporation
, for his troubles. Ken never asked for any money from either of us for the autographs, as he told both of us that he'd prefer we donate to the charity, which is focused on education for children. Shows how much of an awesome dude he is, and we of course both did donate to the charity, and show our support. So thank you, Ken.
Needless to say, Ken Sagoes/Roland Kincaid has become even more legendary amongst my brother and I!