Remember this jacked up cadaver from Re-Animator, who Herbert West brings back to life and then dispatches with a bone saw? Credited as 'Melvin the re-animated', the role was played by Peter Kent, who since the mid '80s has been Arnold Schwarzenegger's stunt double. He doubled for Arnold beginning with Terminator, and continued to do so straight through 1996's Jingle All The Way. So whenever you saw Arnie doing badass stunts in films like Commando, Predator, and Total Recall, that was the work of the muscular corpse from Re-Animator!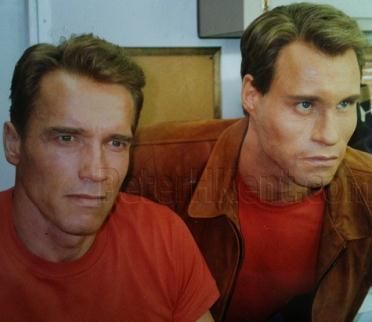 In 2009, Kent was inducted into the Hollywood Stuntmen Hall of Fame, though these days he is focusing more on acting than stunt work, after a near fatal accident on the set of
Eraser
made him rethink his career choice. He has recently appeared in small roles on shows like
Alcatraz
,
Psych
and
Smallville
, and runs a stunt school in Canada called
Peter Kent's School of Hard Knocks
.