Just in time for the holidays,
Fright Rags
has released three brand spankin' new t-shirts, all of which have a Christmas twist to them. Rather than taking for granted that you already know about these, allow me to show them off to ya!
This first one is of course inspired by Silent Night, Deadly Night Part 2, particulary the infamous 'Garbage Day!' scene, which is pretty much single-handedly responsible for that film achieving one hell of a cult following. Funny how one ridiculously awful scene can turn a movie into a cult sensation, isn't it?!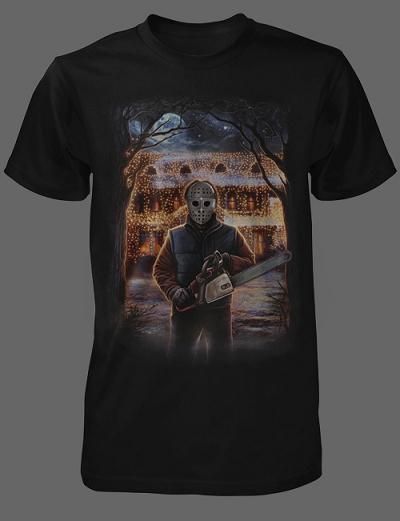 Fright Rags always finds a way to give their favorite movies the t-shirt treatment, even when those movies don't belong in the horror genre. Case in point, this Christmas Vacation shirt, based on the scene in the movie where Clark dons a hockey mask and chainsaws the base of the Griswold family Christmas tree. If that's not the coolest Christmas Vacation shirt ever made, then you can call me Aunt Bethany!
And finally, this one's titled 'Jack Shinington', a mash-up between Nightmare Before Christmas and, of course, The Shining. While the previous two are selling for $21.95, this one's going for $25.95, and is limited to only 500 shirts. Since sizes and quantities are of course very limited, you're gonna want to snatch this one up real quick, if it strikes your fancy.
If you're looking to get any of these for Christmas gifts, don't hesitate; the holiday shipping deadline (inside the US) is December 19th, at the very latest!