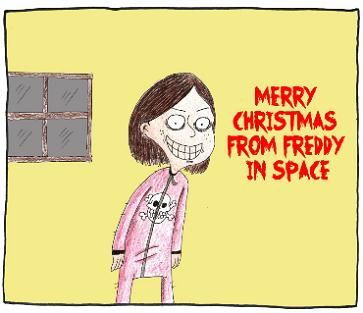 About a week ago, I was sitting on the computer, minding my own business, when an idea popped into my head. The idea was for a Christmas themed animated short film, and I pretty much saw the whole thing play out in my head, right then and there. I thought to myself that it'd be a pretty awesome little thing to whip up and post here on Freddy In Space on Christmas, as a special holiday treat, but knowing absolutely nothing about animation, I figured it'd be one of those ideas that stays within the confines of my brain. There are a lot of them in there, and most of them don't know how to get out.
But since I was so in love with this little idea, I decided to try and get it out there. After having the thought, I made a post on the Freddy In Space Facebook page, asking if anyone out there had any 2D animation skills. Not expecting any replies, I was quite delighted when I got a comment from a reader by the name of Elliot McHugh, who I've chatted with in the past. Elliot asked me to send him my idea, and after a few quick Facebook exchanges back and forth, the ball actually began rolling on making this thing a reality.

Just over a week later, here we are, and Elliot has completely finished the animated short, dedicating hours of his own time over the course of the past week ensuring that it was done by today. For that, I could not possibly ever thank him enough. Elliot has kept me in the loop this past week, texting me progress pictures nearly every day, and I've been excitedly looking forward to being able to share this with you. I always was more into giving, than receiving!

So click play to enjoy this very special Christmas 2012 animated short from Elliot McHugh and yours truly. And may you and yours have the merriest of Christmases, or whatever it is that you celebrate!!

**Be sure to watch in 1080p, for optimum quality!**


Check out Elliot's blog,
Awkward Posture
, to see more of his art. And if you like what you see here, then you'll be happy to know that this isn't the last of my animated collaborations with Elliot. I see endless potential for awesomeness here, and I hope I speak for both Elliot and myself when I say that the next Freddy In Space animated short can't come soon enough!