To say I've been approving a lot of comments this weekend would be a massive understatement. In just a couple days, the 2012 Christmas stocking has pulled in over 120 entries, making it the most successful giveaway I've ever posted here on the blog. To show my appreciation for your support, here are two last minute additions to the stocking!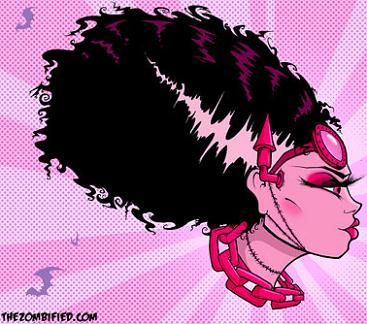 This first one was actually supposed to be included in the stocking from the get go, but I somehow totally forgot to insert it into the post. With so much stuff in there, I was bound to forget something!
This awesome Bride of Frankenberry print was donated by artist Krystal Fancey Beck, who runs the art company
The Zombified
. It measures 8.5"x14", and imagines a world where a bride was created for cereal monster Frankenberry. Krystal showed me this piece while it was still in progress and I absolutely fell in love with it. She surprised me earlier in the week by dropping two of the prints into my PO Box; one for the stocking, and one for my wall ... which is exactly where mine now proudly hangs. If there's one thing I can't get enough of, it's cereal monsters fan art, especially when artists create entirely new characters.
Can't help but wonder why the hell General Mills never gave Frankenberry a bride!

And then we've got this snazzy Leslie Vernon action figure, which was made by and donated by Neil DeConte of DeConte Figures & Collectibles. I've blogged about this figure in the past, and how much I love it, so I was absolutely delighted when Neil messaged me the day after I posted the stocking giveaway, and told me he wanted in on it. I own one of these and it's definitely one of my favorite things that's been put out in this past year. I mean come on ... a Leslie Vernon action figure ... who would've ever thought we'd get to play with one of those?!

Be sure to follow
DeConte Figures & Collectibles on Facebook
to keep up to date with all their awesome new projects. They've currently got a Kane Hodder toy in the works, which you can see pictures of over there!
Thank you Krystal and Neil for the last minute donations! And if anyone has yet to enter the giveaway, you've still got through Christmas Eve to do so, so
head over to the giveaway post
and get your comment in!!